Johnford
See below a selection of second hand Johford Machine Tools in our stock.
Johnford DMC 1500 VMC (Double Column)
Johnford VMC with CNC Heidenhain TNC 530
Travels (X/Y/Z): 1500/900/792 mm.
Distance between columns : 1060 mm.
ATC 24 Tools
Chip Conveyor
Internal Coolant 20 Bar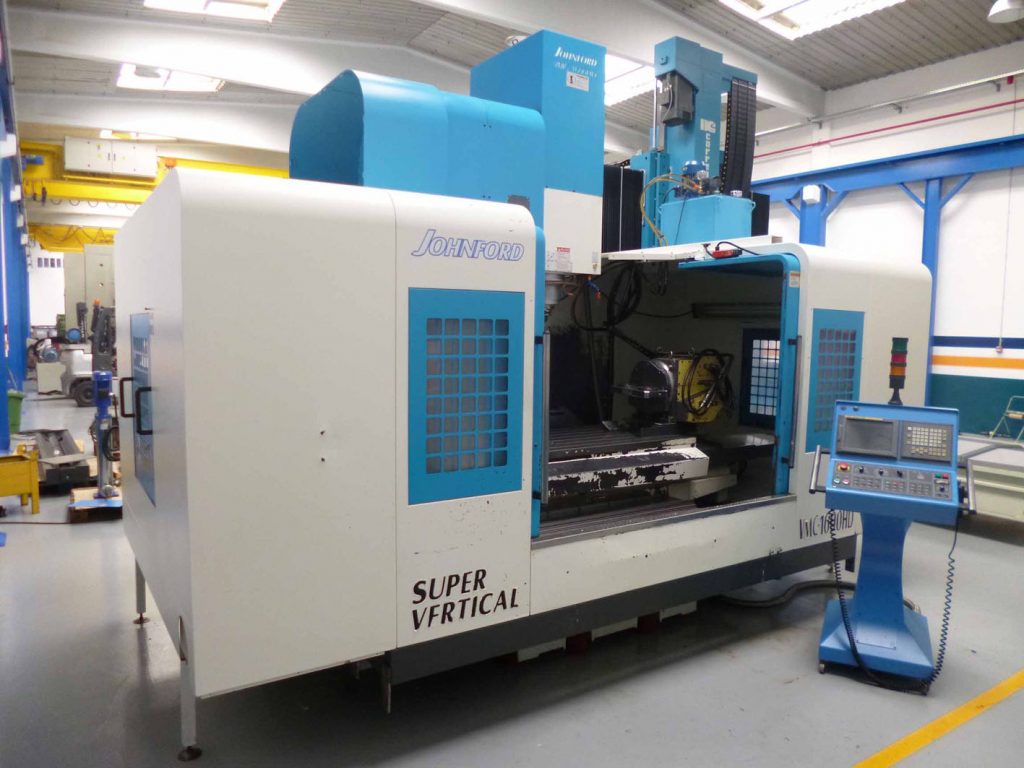 Vertical machining centre John Ford VMC 1600
CNC FANUC 18 i MB. Table: 1.800 X 750 mm. Travels (X/Y/Z): 1.600/850/710 mm. Rapid Feed (X,Y,Z): 18.000 mm/min. Main Engine Power: 18,5 Kw. 24 Tools ATCCargador 24. Rigid Tapper. Internal Coolant. 4th axis installation. 4th axis NIKEN Ø 315 mm
Vertical Machining Centre Johnford VMC 1324 ( 1996 )
This Vertical Machining Centre Johnford VMC 1324 manufactured in 1996 can be found in a liquidation sale for limited time only. Can be inspected under power.
Used Vertical Machining Center Johnford VMC 1624
Table Surface: 1.800X 650 mm.
Travels (X/Y/Z): 1.600/760/710 mm.
Tool Charger 24 Tools RANDOM.
Internal Coolant ( 20 Bar).
Ready for 4 th Axis (Wired + Regulator). Horizontal and Vertical Divisor CNC NIKKEN + Tailstock.
Tools and accesories. CNC: FANUC O M. LIQUIDATION PRICE
If you cannot find the second hand Johford Machine Tool you are looking for, pleasse contact us. We will write down your request and contact us in case we buy any used machine that may fit in the near future.
About Johnford: 
Established in 1984 in Taiwan, Roundtop Machinery Industries Co., Ltd. , better known as "Johnford", has become one of the leading machine tool manufacturers around the world. With over 35 years of experiences in designing and making high-quality precision machine tools, they have  maintained the leading position in Taiwan through innovation, quality, and flexibility.
The company produces a wide selection of machine tools:
Vertical Machining Centers
High-Speed Vertical Machining Centers
Horizontal Boring and Milling Centers
High Speed Horizontal / Vertical & Horizontal Machining Centers
Double Column Multi-Axis / 5-Face Machining Centers (Small & Medium Type)
Double Column (fixed / Moving) Multi-axis / 5-face Machining Centers(large Type)
Slant-Bed CNC Super Lathes
Super Turning Centers
High Quality Turning Centers
Great Turning Centers
Vertical Turning Centers
Flat Bed CNC Lathes / CNC Screw Cutting Machines
Gantry Type Machining Centers