SORALUCE TA 20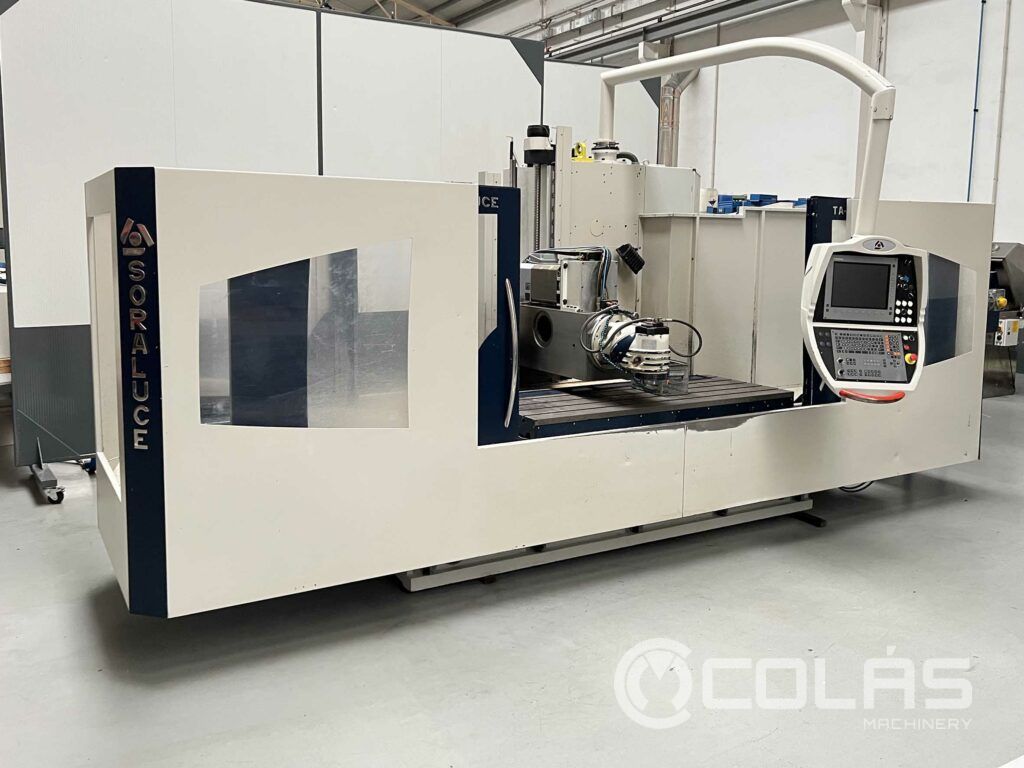 Request information on similar machines
Other available Bed Type Milling Machines
Technical Features of this Bed Type Milling Machine
| | |
| --- | --- |
| Manufacturer | SORALUCE |
| Model | TA-20 |
| Year | 2007 |
| CNC | HEIDENHAIN TNC-530 |
| Table | |
| Table Surface | 2.000 x 800 mm. |
| Number of T Slots | 4 |
| T Slots Dimensions | 22 mm. |
| Carrying Load Table | 4.000 kg. |
| Travels/ Feeds | |
| Longitudinal Traverse (X Axis) | 2.000 mm. |
| Transversal Traverse (Y Axis) | 1.000 mm. |
| Vertical Traverse (Z Axis) | 1.000 mm. |
| Working Feeds (X/Y/Z) | 10.000 mm/min |
| Rapid Traverse | 25.000 mm/min |
| Main Spindle | |
| Head Type | Universal |
| Taper | ISO 50 (DIN 69872) |
| Turning Speeds | 20-3000 rpm |
| Head Power | 24 kW |
| Equipment | |
| Hydraulic Tool Clamping System | INCLUDED |
| EC Guarding | INCLUDED |
| Portable Handwheel | Heidenhain HR-410 |
| 3D Rot | INCLUDED |
| Chip conveyor | INCLUDED |
| Internal Coolant 20 Bar | INCLUDED |
| Others | |
| Total power | 46 kVA |
| Total Weight | 10.000 kg. |
| Machine Dimension | 6.605×3.315×2.730 mm |
Detailed information of this Bed Type Milling Machine
Used Soraluce TA-20 Bed Type Milling Machine for sale. Immediate delivery. It can be seen in our second-hand milling machine warehouse in Zaragoza.
It's a milling bed type milling machine with fixed bed and mobile table of the series TA-20 of Soraluce. Manufactured in 2007 with numerical control Heidenhain TNC-530, this SORALUCE TA-20 has 2 meters in the longitudinal axis (X) and 1,000 mm. in the transversal and vertical axes (Y/Z) respectively.
Thanks to its structural rigidity, it is capable of carrying out important roughing. At the same time, its high dynamics is capable of performing fast finishes, which makes this milling machine ideal for making simple and complex parts.
Its modern and ergonomic design facilitates the loading and unloading of parts.
Do you want to buy a second-hand SORALUCE TA-20?
Then don't miss the opportunity to get this bed type milling machine at the best price. Call us at +34 976500624, write to sales@maquinariacolas.com or fill out the form that appears at the bottom of the page. We are happy to send you all the information you need and a budget without obligation.
The milling machine is available for immediate inspection and delivery. If you are interested in seeing an inspection visit of this second-hand SORALUCE TA-20, contact us by any of the methods indicated above. We will reserve an appointment in order to receive you at our warehouse and show you this and any other machine you may be interested in.
ALL THE MACHINES ARE AVAILABLE SUBJECT TO PRIOR SALE
Technical specifications are not binding and may be modified without notice
Sold. Request information about this type of machinery