Nicolás Correa Prisma 25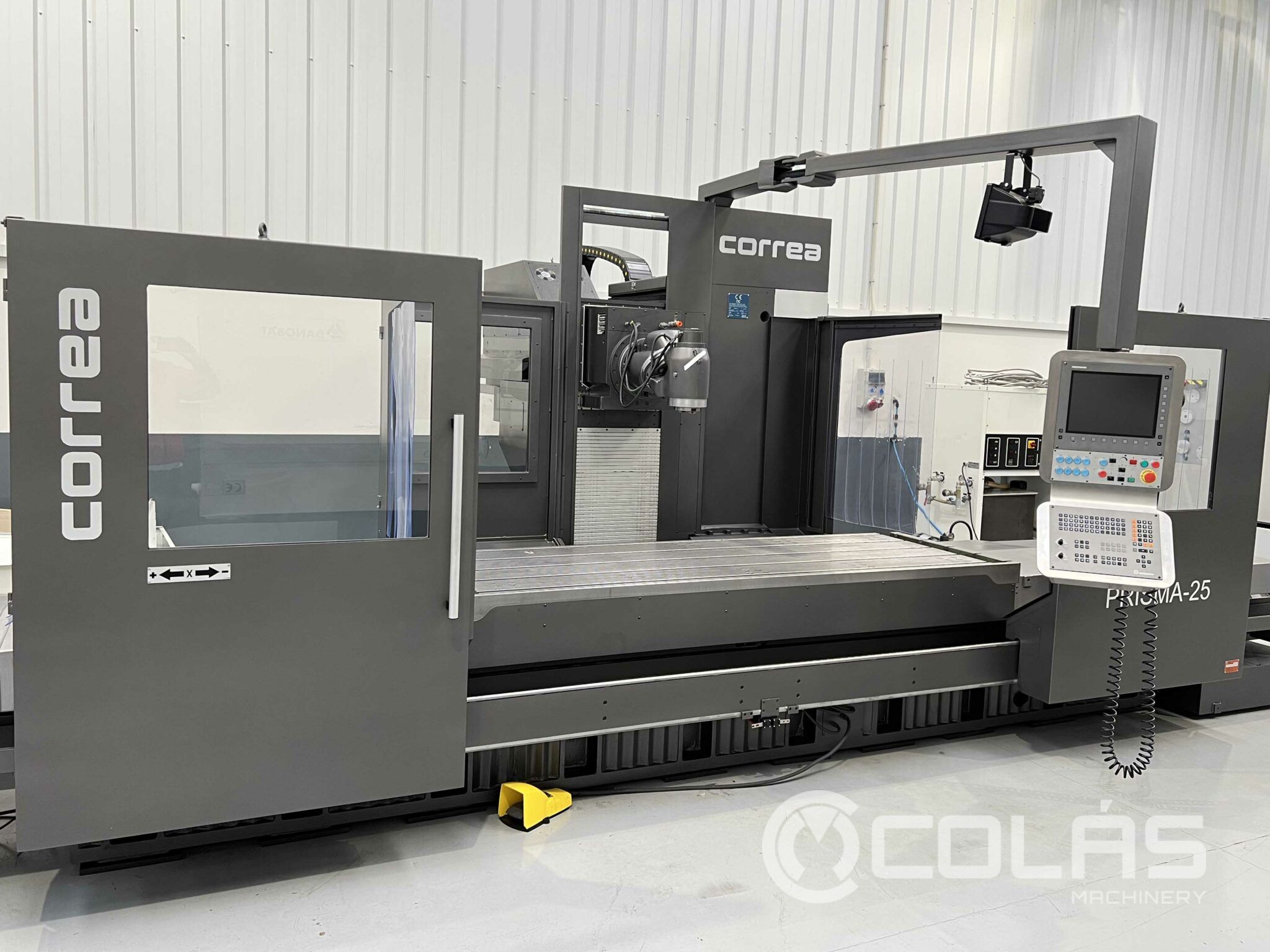 Request information on similar machines
Other available Bed Type Milling Machines
Technical Features of this Bed Type Milling Machine
| | |
| --- | --- |
| Manufacturer | NICOLÁS CORREA |
| Model | PRISMA-25 |
| Year | 2006 |
| CNC | HEIDENHAIN i TNC 530 |
| Table Surface | 2.800 x 900 mm. |
| Carrying Load Table | 4.000 kg. |
| Number of T Slots | 5 |
| T Slots Dimensions | 22 mm. |
| Longitudinal Traverse (X Axis) | 2.500 mm. |
| Transversal Traverse (Y Axis) | 1.000 mm. |
| Vertical Traverse (Z Axis) | 1.000 mm. |
| Working Feeds (X/Y/Z) | 5-10.000 mm/min |
| Rapid Feed X/Y | 20.000 mm/min |
| Rapid Feed Z | 15.000 mm/min |
| Head Type | Universal Manual |
| Taper | ISO 50 |
| Turning Speeds | 3000 rpm |
| Head Power | 22 kW |
| GSS 4TH Axis | INCLUIDO/INCLUDED |
| 4th Axis Size | Ø 630 mm, |
| 4th Axis Min Indexing | 0.001º |
| 4th Axis Weight | 860 kg |
| Equipment | |
| EC Guarding | INCLUIDO/ INCLUDED |
| Portable Handwheel | Heidenhain HR-410 |
| Others | |
| Total Power | 35 kW |
| Machine Weight | 14.500 kg. |
| Machine Dimension | 7.367 x 5.070 x 2.803 mm |
Detailed information of this Bed Type Milling Machine
Second-hand Nicolás Correa Prisma 25 for sale in our second-hand milling machine warehouse in Zaragoza. It has been inspected by our team of used Correa milling machine experts and is, in excellent condition, ready for immediate inspection and delivery. It can be inspected in operation.
It is a bed type milling machine manufactured in 2006 with Heidenhain TNC 530 CNC. Among its equipment, a 630 mm GSA rotary table. diameter and minimum angle of rotation of 0.001º
Do you want to buy a Nicolás Correa Prisma 25 milling machine?
Then do not hesitate and contact us. We have the machine you are looking for. Whether you just want a free estimate or if you prefer to come and see the machine in operation, we will be happy to help you.
Call the number +34 976500624, write to sales@maquinariacolas.com or fill in the contact form that appears at the bottom of the page. One of our commercial  representative will contact you to provide you with all the information you need on this second-hand  Nicolás Correa Prisma 25
ALL THE MACHINES ARE AVAILABLE SUBJECT TO PRIOR SALE
Technical specifications are not binding and may be modified without notice
Sold. Request information about this type of machinery