Bed Type Milling Machine Correa Diana 20
Technical Features of this Bed Type Milling Machine
Table Surface
2.000 X 900 mm.
Longitudinal Traverse (X Axis)
2.000 mm.
Cross Traverse (Y Axis)
1.000 mm.
Vertical Traverse (Z Axis)
1.000 mm.
Rapid Traverse Feed
20.000 mm/min
Spindle Nose
ISO 50
Programmable Speed
20 – 3000 rpm
Maximum Power Spindle
22 Kw
Maximum Load on Table
3.500 kg.
Rigid Tapping
INCLUDED
30 Positions ATC
INCLUDED
Tool Charger H/V
INCLUDED
Auto Indexing Head
INCLUDED
Head
2,5º
Elbow
 2,5 º
Ready for 4th Axis
INCLUDED
4th Axis Rotary Table Spirsin Ø 600 mm. (H/V)
INCLUDED
Internal Coolant 20 Bar
INCLUDED
Longitudinal Chip Conveyor
INCLUDED
Portable Handwheel
HEIDENHAIN HR-410
Machine Weight
14.000 Kg.
Year
2006
CNC
HEIDENHAIN TNC-530
Machine Condition
SEMI-NEW
Detailed information of this Bed Type Milling Machine
This Bed Type Milling Machine Correa Diana 20 can be found at our milling machine warehouse in Spain. We are specialist in Correa milling machines as well as Zayer milling machines.
The Diana family of Correa milling machines was developed to serve to those manufacturing industries where rigidity, versatility and enhanced 3-D surface finish is a must. If we add the additional equipment of this Bed Type Milling Machine Correa Diana 20, the result is a machine suitable for multiple jobs.
Between the additional equipment we can highlight: 30 positions ATC, Tool Charger H/V, Auto indexing head 2.5º/2.5º, ready for 4th axis, 4th axis rotatory table Spirsin Spirsin Ø 600 mm, internal coolant 20 Bar, longitudinal chip conveyor, and portable handwheel HEIDENHAIN HR-410
If you need  to buy or sell Correa milling machines, please contact us using the contact form at the end of the page or via our customer service telephone where we will be happy to help you,
ALL THE MACHINES ARE AVAILABLE SUBJECT TO PRIOR SALE
Technical specifications are not binding and may be modified without notice
Other available Bed Type Milling Machines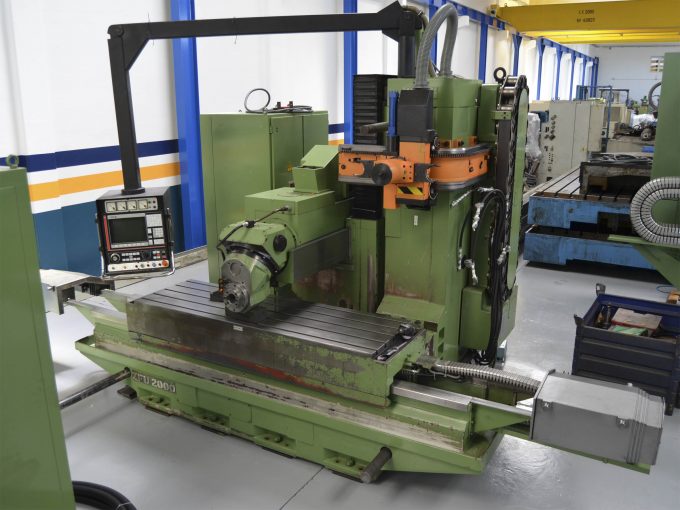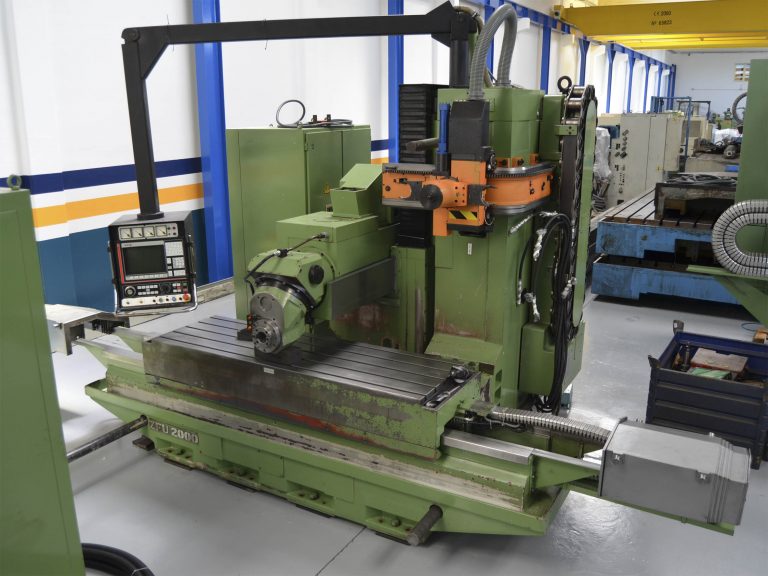 Bed Type Milling Machine Zayer ZFU 2000 with CNC Fagor
Table Surface: 2000 X 630 mm. Travels (X/Y/Z):1800/800/800 mm. CNC FAGOR 8050 M. ATC 30 Positions. Chip Conveyor. Automatic Head. Year 1992.
Used Correa A 25/30
Bed Type Milling Machine with Autoindex Head  2.5/2.5 Machine Model: Correa A25/30. YOM 1992. CNC Heidenhain TNC 415. Rotary Table Ø 400 mm Hydraulic Tool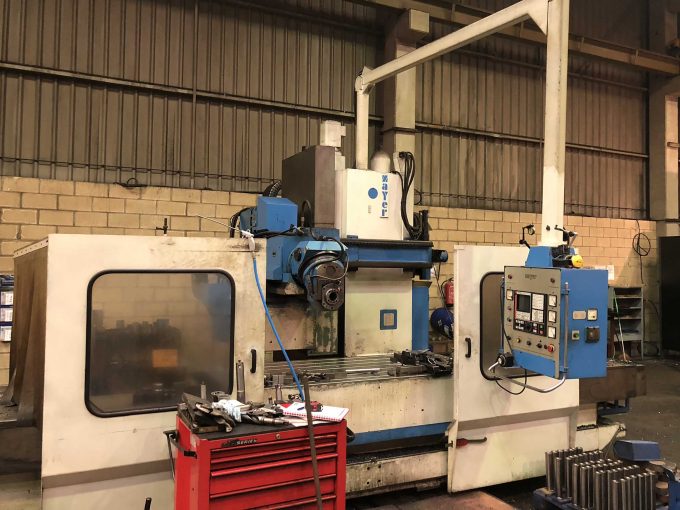 Zayer KFU-2200 Bed type milling machine
New In :1990 CNC :FAGOR 8025 M Table Surface : 2.300 X 1.000 mm. Travels (X/Y/Z) :2000/1000/1000 mm. ATC 30 TOOLS: INCLUDED Chip Conveyor: INCLUDED Autoindex Head :0- 180
Used MTE K15 Milling Machine
Second Hand MTE K15 Bed Type Miling Machine New in 2008 with CNC Heidenhain TNC 530 Travels  (X/Y/Z): 1.500/800/800 mm. Table Surface: 1.700×750 mm. Autoindex Head 2.5º/2.5º ATC 24
Used Anayak VH-1800 bed type milling machine
Second Hand Anayak bed type milling machine with CNC Fagor 8055. New in : 1996. Travels (X/Y/Z/): 1.800/800/800 mm. Table Surface: 1.800 x 700 mm. Hydraulic Tool Clamping. More info and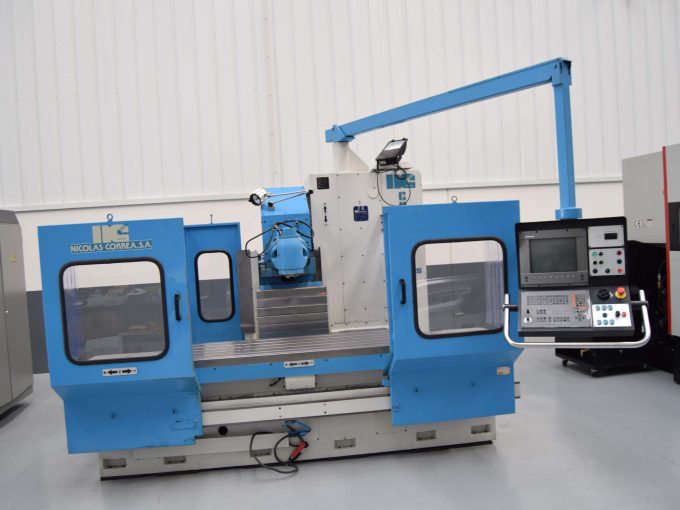 Used Nicolás Correa CF22/20 Plus
Second Hand Bed Type Milling Machine New in :2001 CNC :HEIDEHAIN TNC 426M Table Surface :2.000 X 700 mm. Travels (X/Y/Z) :2.000/800/800 mm. Hydraulic Tool
Solicitar información sobre maquinaria de este tipo