Zayer XIOS G 3000
Request information on similar machines
Other available Bed Type Milling Machines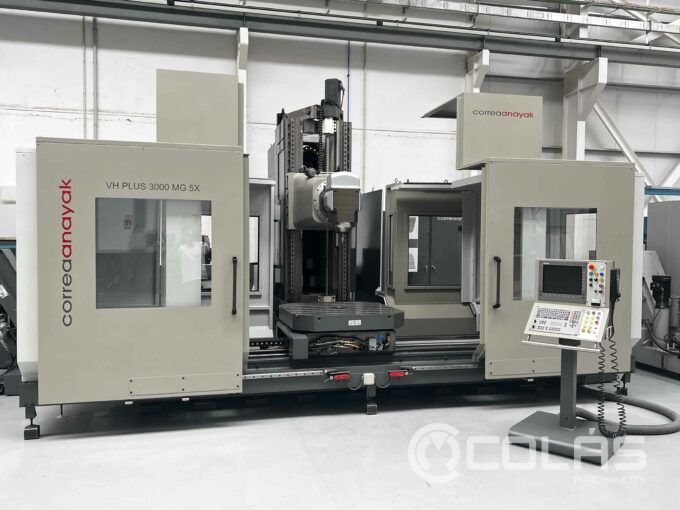 Anayak VH Plus 3000 MG-8 5x
5 Axis Anayak with integrated rotary table. New in 2010. CNC: HEIDENHAIN iTNC 530 Table 1.250 x 1.250 mm Travels  ( X/Y/Z): 3.000/1.270/1.500 mm. ATC 40 tools Chip conveyor Internal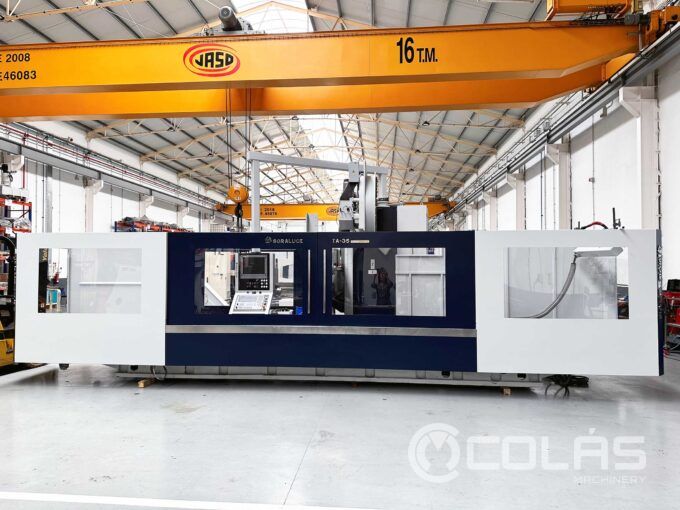 Soraluce TA35 Automatic
Soraluce bed type milling machine New in 2009 with CNC Heidenhain TNC 530 Travels (X/Y/Z): 3500/1000/1250 mm. Automatic Head 2.5º/2.5º ATC 20 Positions Chip Conveyor Internal
Zayer 20 KF-2000
CNC Heidenhain TNC 426 Table dimension :2.000 x 1.000 mm. Longitudinal travel (X Axis) :1.725 mm. Cross travel (Y Axis) :1.250 mm. Vertical travel (Z Axis) :1.000 mm. Hydraulic Tool
Technical Features of this Bed Type Milling Machine
| | |
| --- | --- |
| Manufacturer | ZAYER |
| Model | XIOS G-3000 |
| Year | 2013 |
| CNC | HEIDENHAIN iTNC-530 HSCI |
| Table | |
| Table Surface | 2.000 X 2.500 mm. |
| Max. Carrying Load Table | 20.000 kg. |
| Travels and feeds | |
| Travels (X/Y/Z) | 3,003/1,505/1,600 mm. |
| Rapid Traverse | 30.000 mm/min |
| Max. Working Feed | 15.000 mm/min |
| Max. Axis Acceleration | 1.5m/s2 |
| Main spindle | |
| Universal Auto Indexing Head 45º | |
| A Body | 0.001º |
| B Body | 0.001º |
| Taper | DIN 69871 AD 50 |
| Spud | ISO 7388-2 B 50 |
| Spindle speed | 40-4.500 rpm |
| Speed ranges | 3 |
| Main spindle power | 40 kW |
| Tool changer and magazine | |
| Tool change | Horizontal |
| Magazine positions | 40 |
| Max tool diameter with adjacent positions not free/ free | 150/240 mm. |
| Max tool length | 300 mm. |
| Max tool weight | 25 kg. |
| Other equipment | |
| Internal and external coolant | INCLUDED |
| Front and back longitudinal chip conveyors brand Knoll | INCLUDED |
| Back chip conveyor with integrated deposit | INCLUDED |
| Knoll coolant system | INCLUDED |
| Complete enclosure with ceiling, automatic opening and close of front doors | INCLUDED |
| Working area lighting 500 Lux | INCLUDED |
| 2 dedusters | INCLUDED |
| ICAL system for head calibration | INCLUDED |
| Portable handwheel | HEIDENHAIN HR-520 |
| Piece Measure Probe | RENISHAW RPM 600 |
| Water gun for part cleaning | INCLUDED |
| Control panel in hanging | INCLUDED |
| Others | |
| Total power | 122,89 kVA |
| Machine Weight | 33.000 kg. |
Detailed information of this Bed Type Milling Machine
Used Zayer XIOS G 3000 bedtype milling machine for sale. Available at our second-hand Zayer milling machine warehouse in 50720 Zaragoza, Spain.
It is a CNC milling machine or horizontal and vertical machining center with a fixed bed and a mobile and rotating table. Manufactured in 2013 with a HEIDENHAIN iTNC-530 HSCI CNC, this used milling machine is equipped with, among others:
Automatic head 45º 0.001º 0.001º 40kW
ATC 40 tools
Internal and external cooling
Chip evacuator
Part touchprob
Do you want to buy a Zayer XIOS G 3000 milling machine?
So don't hesitate, take advantage of the opportunity and get this unit that we have in stock with immediate delivery. Whether you just want to receive a free quote or come to see the machine at our showroom, we will be happy to help you.
Call +34 976500624, write to sales@maquinariacolas.com or fill out the contact form. One of our experts in Zayer milling machines will contact you to answer all your questions.
ALL THE MACHINES ARE AVAILABLE SUBJECT TO PRIOR SALE
Technical specifications are not binding and may be modified without notice
Sold. Request information about this type of machinery