Zayer TEBAS 5000
Request a quote
Technical Features of this Brige Type Milling Machine
| | |
| --- | --- |
| Manufacturer | ZAYER |
| Model | TEBAS-5000 |
| Year | 2013 |
| CNC | HEIDENHAIN iTNC-530 HSCI |
| Table | |
| Table Surface | 5.200 x 2.200 mm. |
| Max. weight allowed on table | 25.000 kg. |
| Max distance from 45º head nose to table in vertical position | 1.410 mm. |
| Max distance from 45º head nose to table in horizontal position | 1.465 mm. |
| Max distance from direct exit head nose to table in vertical position | 1.420 mm. |
| Travels and feeds | |
| Longitudinal Traverse (X Axis) | 5.000 mm. |
| Transversal Traverse (Y Axis) | 3.750 mm. |
| Vertical Traverse (Z Axis) | 1.250 mm. |
| Distance between columns | 3.000 mm. |
| Rapid Traverse | 50.000 mm/min |
| Max. Working Feed | 30.000 mm/min |
| Headstocks | |
| Universal Auto Indexing Head 45º | 0.001º/0.001º |
| Taper | DIN 69871 AD 50 |
| Spud | ISO 7388-2 B 50 |
| Spindle speed | 6.000 rpm |
| Speed ranges | 3 |
| Main spindle power | 43 kW |
| Direct output head reduction 1-2,29 | INCLUDED |
| Taper | DIN 69871 AD 50 |
| Spud | ISO 7388-2 B 50 |
| Spindle speed | 2.000 rpm |
| Automatic head changer | INCLUDED |
| Automatic support for automatic head change (direct exit head) in the upper side of the right column | INCLUDED |
| Automatic support for automatic head change (45º head) in the lower side of the right column | INCLUDED |
| Tool changer and magazine | |
| Tool change | Vertical |
| Magazine positions | 20 |
| Max tool diameter with adjacent positions | 125 mm. |
| Max tool diam. with adjacent positions free | 240 mm. |
| Max tool length | 300 mm. |
| Max tool weight | 25 kg. |
| Other equipment | |
| Internal 20 Bar and external coolant | INCLUDED |
| 2 longitudinal chip conveyors | INCLUDED |
| 1 cross chip conveyor | INCLUDED |
| Knoll coolant system | INCLUDED |
| Integral protecting guards without ceiling | INCLUDED |
| ICAL system for head calibration | INCLUDED |
| Portable handwheel | HEIDENHAIN HR-520 |
| Part touch probe | M&H PS 20.41 |
| Water gun to clean parts | INCLUDED |
| Lamp under the bridge | INCLUDED |
| Others | |
| Total power | 122,89 kVA |
| Machine Weight | 33.000 kg. |
Detailed information of this Brige Type Milling Machine
Used Zayer TEBAS 5000 bridge milling machine for sale. It is located in our Zaragoza warehouse where it has been reviewed by our experts in used Zayer milling machines. Excellent condition. Immediate delivery.
It is a CNC milling machine or machining center with a fixed bridge, fixed crossbar and mobile table manufactured by Zayer in 2013 with a HEIDENHAIN iTNC-530 HSCI CNC.
Zayer's TEBAS-5000 model offers dynamic behavior and superior performance to machines in its same range. Its geometrically symmetrical design ensures good thermal behavior which confers great stability. The ergonomic concept in its construction stands out, since it has a comfortable height for the operator as well as a movable control panel that allows working on both sides of the machine. All this ensures a great comfort of handling for the user.
One of the advantages of this model is its simplicity of installation, since due to its optimal height, its location can be done at ground level.
The objective of this model is to cover the markets in which high productivity and quality machining is required. It has a table surface of 5,200 x 2,200 mm and travels of 5,000 mm along the longitudinal axis, 3,750 mm across and 1,250 mm vertically. The width between columns is 3,000 mm.
Besides,. this used Zayer TEBAS 5000 unit that we have in stock is well equipped with, among others:
Automatic turning head 45º 0.001º/0.001º 6000 rpm 43 kW
Direct output head reduction 1:2.29
Automatic head changer
ATC 20 tools
Chip conveyor
Internal and external cooling.
Do you want to buy a Zayer TEBAS-5000 milling machine?
If so, do not hesitate and contact us. Call +34 976500624, write to sales@maquinariacolas.com or fill out the information request form. One of our specialists in new and used Zayer milling machines will contact you with all the information you need.
ALL THE MACHINES ARE AVAILABLE SUBJECT TO PRIOR SALE
Technical specifications are not binding and may be modified without notice
Other available Bridge and Gantry milling machines
Nicolás Correa FP 50/80 5 axis
New in 2010 with CNC iTNC-530 5 axis Table: 8.500×2.500 mm. Travels (X/Y/Z) :8.000/3.800/1.250 mm Distance between columns: 3.100 mm 5-axis automatic head B/C axis oscillation range: ±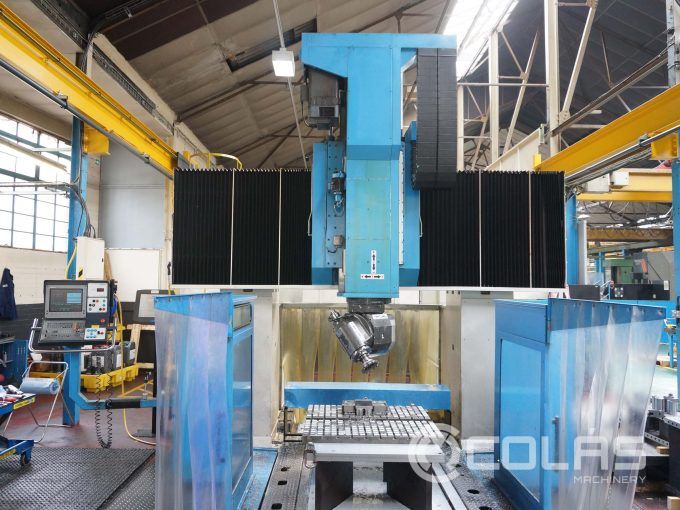 Used Correa FP40/30 Bridge Type Milling Machine
Used Correa FP40/30 ATC UDG Bridge Type milling machine. CNC Heidenhain TNC 426. Orthogonal Autoindex Head 2.5º/2.5º. Internal Coolant. ATC 10 Tools.
CORREA FP40/30 UAGA ATC
Bridge type Correa milling machine with autoindex head New in 2004 with CNC Heidenhain iTNC 530 Travels (X/Y/Z): 2.500/1.000/2.350 mm. Distance between columns: 2.350 mm. Orthogonal