Nicolás Correa FP 50/80 5 axis
Request a quote
Technical Features of this Brige Type Milling Machine
| | |
| --- | --- |
| Manufacturer | NICOLÁS CORREA |
| Model | FP50/80 |
| New in Year | 2010 |
| CNC | HEIDENHAIN iTNC-530 5 ejes |
| Table Surface | 8.500 x 2.500 mm |
| Max weight allowed on table | 35.000 kg. |
| Travels (X/Y/Z) | 8.000/3.800/1.250 mm |
| Distance between columns | 3.100 mm |
| Max distance table to under bridge | 2.100 mm |
| Min/max distance table to spindle | 500-1.750 mm |
| Rapid feed (X Axis) | 10.000 mm/min |
| Rapid feed (Y,Z Axis) | 12.000 mm/min |
| Max. Working Feed | 7.000 mm/min |
| Automatic head C5 E | INCLUDED |
| Number of continuous axis | 2 |
| B-Axis head swivel | ± 190º |
| C Axis head rotation | ± 360º |
| Spindle taper | ISO 50 |
| Spindle speed | 4.000 r.p.m. |
| Spindle motor | 37 Kw |
| Spindle Torque | 718 Nm |
| Speed Range | 2 |
| Automatic tool changer | INCLUDED |
| ATC positions | 30 |
| Portable Handwheel | INCLUDED |
| Thermal growth compensation system | INCLUDED |
| Machine dimensions | 19.370 x 5.850 x 5.970 mm. |
| Machine Weight | 93.000 g. |
Detailed information of this Brige Type Milling Machine
Second-hand Nicolás Correa FP50/80 5-axis bridge milling machine for sale. After being reviewed by our team of experts in second-hand Correa milling machines, it is ready for immediate delivery at our warehouse in Zaragoza.
Are you interested in this used Correa FP 50/80?
Then don't think hesitate Either by phone +34 976500624, by writing to sales@maquinariacolas.com or by filling out the contact form, contact us. Whether you want more information, receive an offer without commitment or come to see the machine in operation, we will be happy to help you.
ALL THE MACHINES ARE AVAILABLE SUBJECT TO PRIOR SALE
Technical specifications are not binding and may be modified without notice
Other available Bridge and Gantry milling machines
Zayer TEBAS 5000
New in 2013 with HEIDENHAIN iTNC-530 HSCI CNC. Automatic head 45º 0.001º/0.001º 6000 rpm 43 kW Direct output head reduction 1:2.29 Automatic head changer ATC 20 tools Chip conveyor-
CORREA FP40/30 UAGA ATC
Bridge type Correa milling machine with autoindex head New in 2004 with CNC Heidenhain iTNC 530 Travels (X/Y/Z): 2.500/1.000/2.350 mm. Distance between columns: 2.350 mm. Orthogonal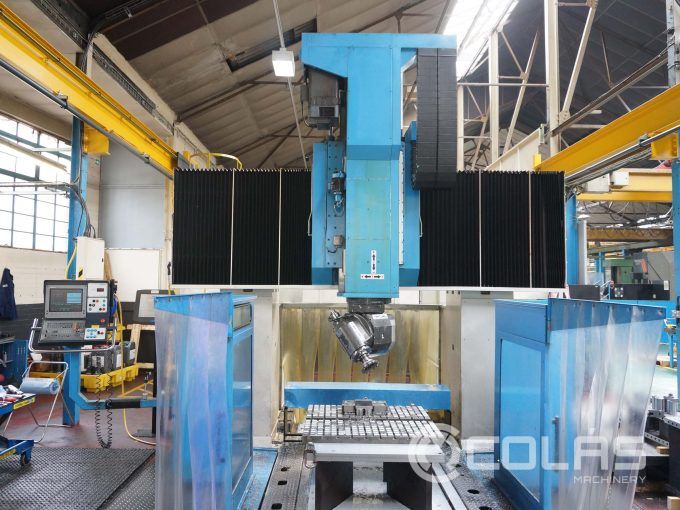 Used Correa FP40/30 Bridge Type Milling Machine
Used Correa FP40/30 ATC UDG Bridge Type milling machine. CNC Heidenhain TNC 426. Orthogonal Autoindex Head 2.5º/2.5º. Internal Coolant. ATC 10 Tools.