ZAYER 30 KMU-5000
Technical Features of this Moving Column Milling Machine
Manufacturer
ZAYER
Model
30 KMU-5000
Year
1999
CNC
HEIDENHAIN TNC-430PA
Table Surface
4.700 x 1.200 mm.
Travels (X/Y/Z)
3.400/1.250/2.000 mm.
Quill Travel (W Axis)
500 mm.
Taper
ISO-50
Main Motor Power
37 kW
Automatic Head 45º
INCLUDED
Automatic Head 45º
0.001º/0.001º
Head 45º Max. Speed 3.000 rpm
45º Head Taper
ISO-50
Twist Head Contiuous
INCLUDED
Twist Head Max Speed
3.000 rpm
Twist Head Taper
ISO-50
Ram with Quill
INCLUDED
Quill Diameter
150 mm.
Quill Taper
ISO-50
Rotary Table ZEATZ Ø 1200
INCLUDED
Internal and External Coolant Head 45º and Quill
INCLUDED
External Coolant Twist Head
INCLUDED
Semi-automatic head change
INCLUDED
Automatic Tool Changer
INCLUDED
Positions in ATC
60
Pick up station AITEK for 45º and Twist Heads
INCLUDED
Chip Conveyor
INCLUDED
Portable Handwheel
HEIDENHAIN HR-410
Piece Touchprobe
RENISHAW MP 16+SP2/1
Machine Weight
35.000 kg.
Detailed information of this Moving Column Milling Machine
ALL THE MACHINES ARE AVAILABLE SUBJECT TO PRIOR SALE
Technical specifications are not binding and may be modified without notice
Other available Travelling column milling machines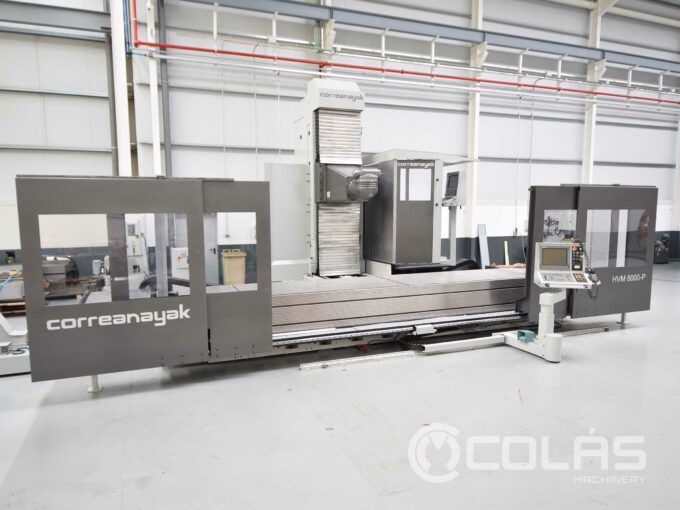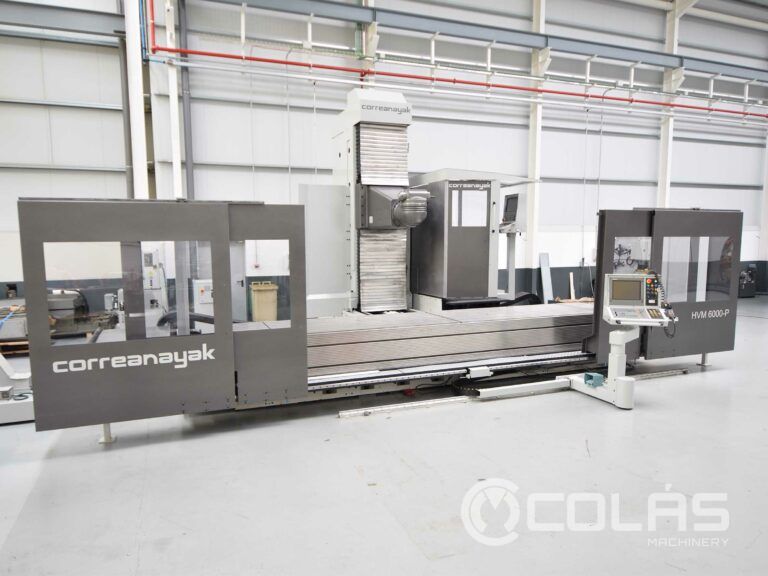 ANAYAK HVM 6000 P
New in:2004 CNC: HEIDENHAIN TNC 530 Travels (X/Y/Z): 5.300/1.500/2.000 mm. Table Surface :6.000 x 1.200 mm Automatic Orthogonal Head 1º/1º Internal Coolant 20 Bar Chip
ZAYER 30 KCU-22000 Floor Type MiIling Machine
22 meter travelling column milling machine New inl 2000. CNC SIEMENS 840D Travels (X/Y/Z):22.000/1.500/3.000 mm. AutoIndex Head 45º 0.001º/0.001º ATC 30 Tools Internal Coolant Chip
NICOLÁS CORREA L30/28
Used traveling column milling machine Correa L30/28 New in :1997 CNC HEIDENHAIN TNC-426 Table Surface :4.600 x 1.000 mm X Travel :2.800 mm Y Travel :1.200 mm Z Travel  :1.500
Soraluce FS 8000
8 meters Soraluce used milling machine wth rototranslating machine New in 2006 with CNC HEIDENHAIN TNC-530 HSCI Table surface :7.500 x 5.000 mm Automatic Head 45º , Horizontal Head and ISO
Used Zayer 30 KCU 5000
Second Hand Zayer Travelling Column Milling Machine. Model 30 KCU 5000. Heidenhain TNC 430. Year 2003. Table: 5.000 X 2.000 mm. Travels ( X/Y/Z): 5.000 /1.250/ 2.000 mm. AutoIndex Head 45º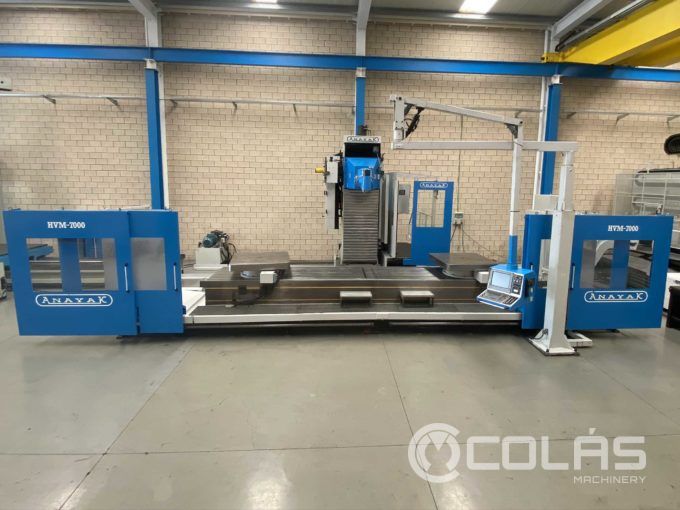 Travelling column milling machine ANAYAK HVM-7000
Used Anayak HVM 7000 with CNC Heidenhain Table Surface:  7.100 X 1.200 mm Travels: 7.000/1.200/2.000 mm. Autoindex Head:  2.5º / 2.5º ATC 40 Tools. Internal Coolant. Chip Conveyor 2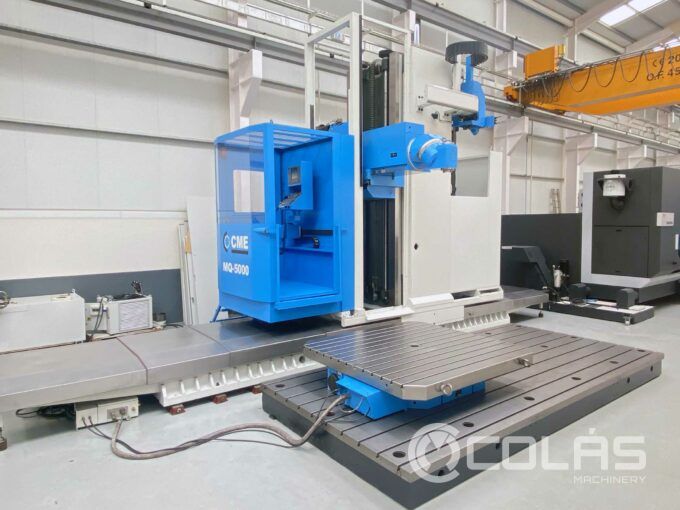 Used CME MQ-5000
CNC Heidenhain TNC 530 New 2011 Automatic Head. Internal Coolant ATC 60 Tools Chip Conveyor Rotary Table 2.000×2.000
Request more info about this machine