Used Zayer FPU-11000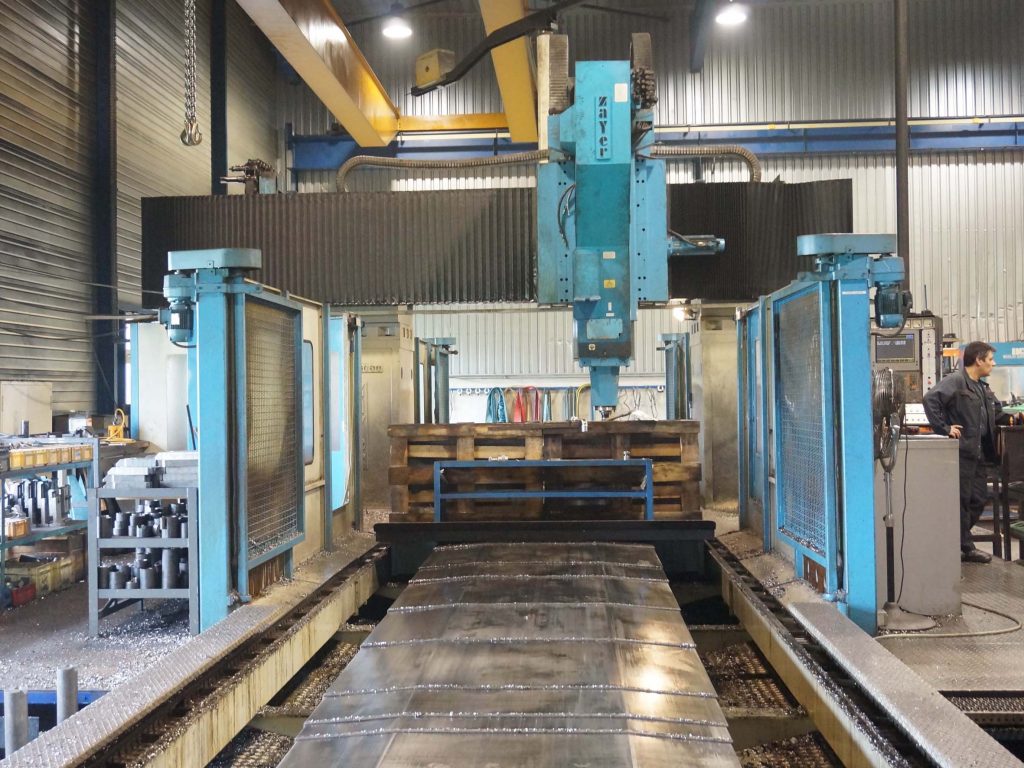 Request information on similar machines
Other available Bridge and Gantry milling machines
CORREA FP40/30 UAGA ATC
Bridge type Correa milling machine with autoindex head New in 2004 with CNC Heidenhain iTNC 530 Travels (X/Y/Z): 2.500/1.000/2.350 mm. Distance between columns: 2.350 mm. Orthogonal
CORREA FP 50/50 UAGA
Liquidation sale Bridge Type Milling Machine New in 2001  HEIDENHAIN TNC-530 i Table Surface :5.000 X 2.000 mm Travels  (X/Y/Z)) :5.000/3.250/1.000 mm Distance Between Columns :2.700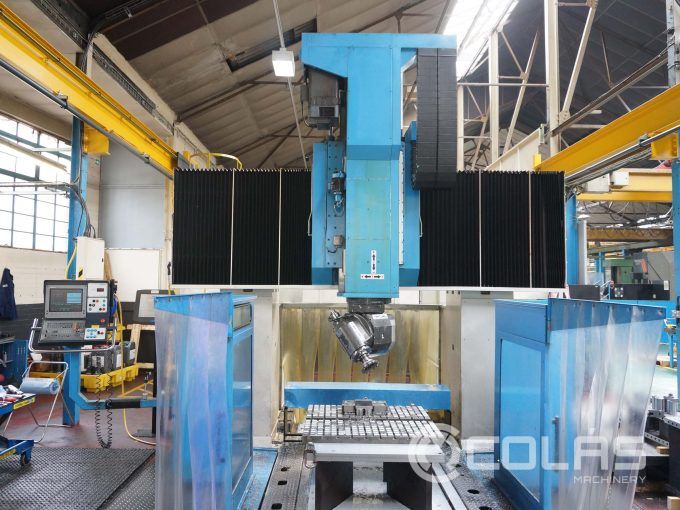 Used Correa FP40/30 Bridge Type Milling Machine
Used Correa FP40/30 ATC UDG Bridge Type milling machine. CNC Heidenhain TNC 426. Orthogonal Autoindex Head 2.5º/2.5º. Internal Coolant. ATC 10 Tools.
Technical Features of this Brige Type Milling Machine
CNC
Heidenhain TNC 430 PA
New in
2000
Table Surface
10.500 X 2.500 mm
Longitudinal Travel (X Axis)
11.005 mm
Cross Travel (Y Axis)
3.946 mm
Vertical Travel (Z Axis)
1.112 mm
Distance Between Columns
3.100 mm
Maximum Height Between Nose and Table with Direct Output
1.313 mm.
Maximum Height Between Nose and Table with Head at 45°
1.300 mm.
Maximum Height From Table to Axis Head in Horizontal Position
266 – 1366 mm
Rapid Traverse Axis (X,Y,Z)
10.000 mm/min
Max. Working Feed
5.000 mm/min
Direct Output Head Taper
ISO-50 – DIN 69871
Automatic Head 45º Taper
ISO-50 – DIN 69871
Direct Output Head Speed
6.000 r.p.m.
Automatic Head 45º Speed
6.000 r.p.m.
Main Motor Power
37 Kw.
Speed Ranges
2 Ranges
Ethernet Connection
INCLUDED
Positioning Accuracy
0.010 mm.
Repetitive Accuracy
0.005 mm.
Machine Colour
RAL 7038 / RAL 5012
Portable Handwheel
HEIDENHAIN HR-410
Carrying Load Table
20.000 Kg.
Machine Weight
98.000 Kg.
Axis and Head Engines 
SIEMENS DIGITALES
Machine Condition
EXCELLENT
ADDITIONAL EQUIPMENT
Direct Output Head
INCLUDED
Automatic Rotation Head 45°
INCLUDED
A Axis Rotation
0,001º
B Axis Rotation
0,001º
Automatic Head Change 
INCLUDED
Automatic Divisible Table in 2 areas
INCLUDED
Retractable Manual Support in the Right Side For Spherical Head
INCLUDED
Retractable Manual Support in the Right Side For Direct Output Head 
INCLUDED
Double Chip Conveyor
One at each side of the machine 
INCLUDED
Transversal Chip conveyor to collect the 2 longitudinal 
INCLUDED
Complete Side Guarding 
INCLUDED
RENISHAW MP 14Measure Piece Probe 
INCLUDED
1000l Solube Oil Tank With Filter Paper + Magnetic Separator 
INCLUDED
Cooling Through Tool 20 bar 
INCLUDED
External Tool Cooling 10 bar 
INCLUDED
Automatic Charger 80 Herr. ISO 50 
INCLUDED
Tool Control System 
INCLUDED
CNC 3D ROT Function
INCLUDED
Detailed information of this Brige Type Milling Machine
Used Zayer FPU-11000 for sale at Maquinaria Colás. New in 2000 with Heidenhain TNC 430 PA and Auto Index Head 45º and 360.000 positions. Includes a lot of additional equipment such as automatic tool charger of 80 positions, double longitudinal chip conveyor and transversal chip conveyor, internal coolant (20 bar)  and external ( 10 bar)…
If  you want to buy an 11 meter bridge type milling machine Maquinaria Colás is the place where you should start to look for.  We own the widest selection of Zayer and Correa milling machines, reviewed and ready to be delivered immediately.
You can contact us using the contact form at the end of the page, at our phone number +34976500624 or via the email account sales@maquinariacolas.com. We will be more than happy to help!
ALL THE MACHINES ARE AVAILABLE SUBJECT TO PRIOR SALE
Technical specifications are not binding and may be modified without notice
Sold. Request information about this type of machinery