Soraluce TA35 Automatic
Request a quote
Technical Features of this Bed Type Milling Machine
| | |
| --- | --- |
| Manufacturer | SORALUCE |
| Model | TA-35 AUTOMATIC |
| Year | 2009 |
| CNC | HEIDENHAIN TNC-530 |
| Table | |
| Table Surface | 3.700 x 1.000 mm. |
| Travels and feeds | |
| Travels ( X/Y/Z)  | 3.500/1.000/1.250 mm. |
| Working Feed (X/Y/Z) | 10.000 mm/min |
| Rapid Feed (X/Y/Z) | 25.000 mm/min |
| Main Spindle | |
| Head Type Automático | 2. 5º/2. 5º |
| Taper | ISO 50 DIN |
| Turning Speeds | 3.000 rpm |
| Head Power | 24 kW |
| Automatic Tool Charger | |
| Magazine type | Frontal |
| ATC Positions | 20 |
| Tool selection | Random |
| Equipment | |
| Integral protecting guards | INCLUDED |
| Chip conveyor | INCLUDED |
| Internal Coolant | INCLUDED |
| Coolant deposit with magnetic and paper filter | INCLUDED |
| Portable Handwheel | Heidenhain HR-410 |
| Others | |
| Total Power | 46 kVA |
| Machine Weight | 18.000 kg |
| Machine Dimension | 8760 x 4570 x 3530 mm. |
Detailed information of this Bed Type Milling Machine
Used Soraluce TA35 Automatic milling machine for sale at Maquinaria Colás, 50720 Zaragoza, Spain. After being completely inspected by our team of experts in used milling machines, it is ready for inspection and immediate delivery. Can be inspected under power at your convenience.
New  in 2009 with Heidenhain TNC 530 numerical control, this bed type milling machine is equipped with a 2.5º automatic spindle in both head and elbow. It also includes, among others, internal coolant, chip conveyor, ACT with 20 positions and a coolant tank with a paper filter.
Are you interested in this used Soraluce TA35 Automatic milling machine?
Then contact us. Call +34 976500624, write to sales@maquinariacolas.com or fill out the contact form. We will be happy to send you all the information you need as well as a budget without commitment.
ALL THE MACHINES ARE AVAILABLE SUBJECT TO PRIOR SALE
Technical specifications are not binding and may be modified without notice
Other available Bed Type Milling Machines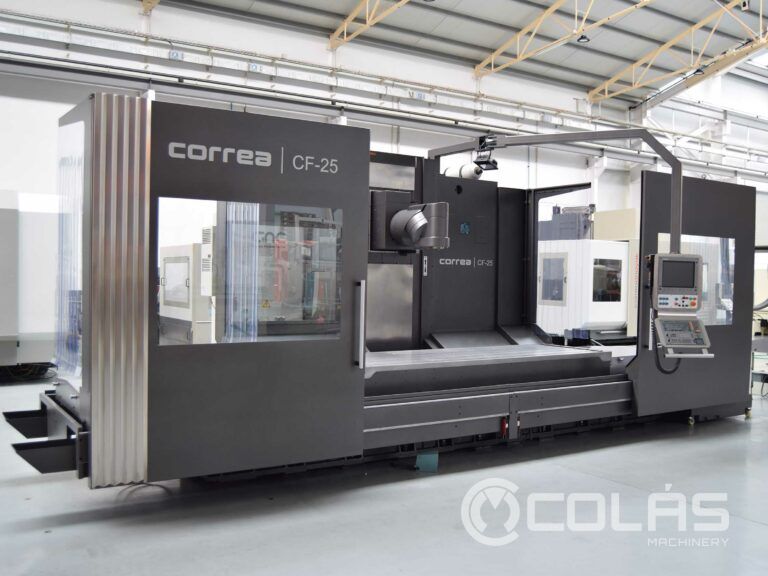 Correa CF25/25 – Used bed type milling machine
CNC Heidenhain TNC 530. New in 2008 Table Surface: 3.100 x 1.100 mm Travels:2.499/1.000/1.000 mm Autoindex head 0.1º/0.1º Longitudinal Chip Conveyor Internal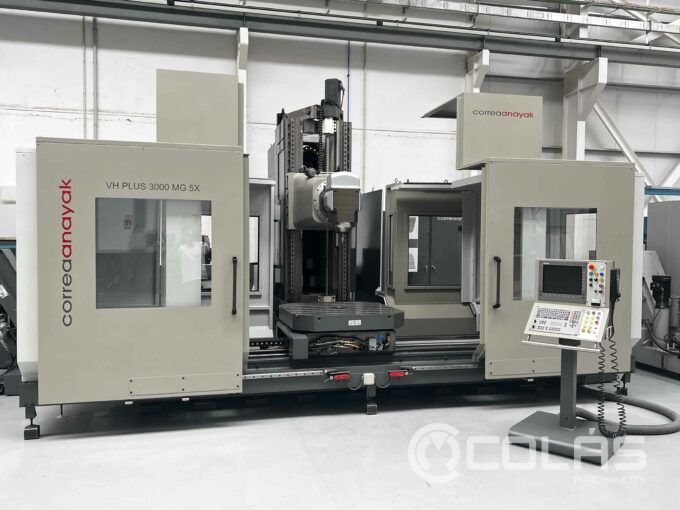 Anayak VH Plus 3000 MG-8 5x
5 Axis Anayak with integrated rotary table. New in 2010. CNC: HEIDENHAIN iTNC 530 Table 1.250 x 1.250 mm Travels  ( X/Y/Z): 3.000/1.270/1.500 mm. ATC 40 tools Chip conveyor Internal
Zayer 20 KF-2000
CNC Heidenhain TNC 426 Table dimension :2.000 x 1.000 mm. Longitudinal travel (X Axis) :1.725 mm. Cross travel (Y Axis) :1.250 mm. Vertical travel (Z Axis) :1.000 mm. Hydraulic Tool