MAZAK VARIAXIS 730 5X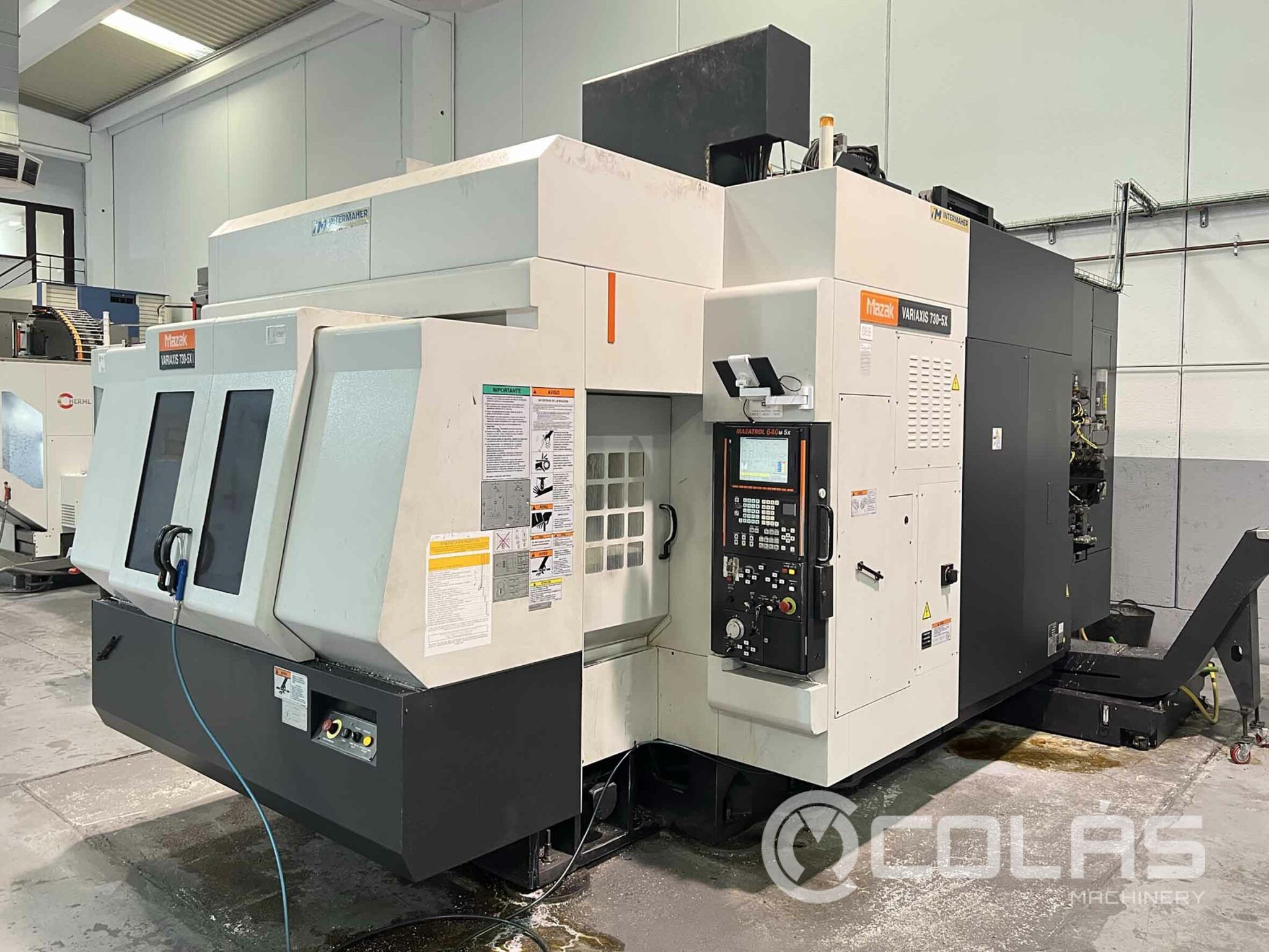 Request information on similar machines
Other available 5 Axis Machining Centers
Technical Features of this 5 Axis Machining Centers
| | |
| --- | --- |
| Manufacturer | MAZAK |
| Model | VARIAXIS 730 5X |
| Year / Month | 2006-04 |
| CNC | MAZATROL 640 M 5X |
| Table dimension | 500 x 500 mm. |
| Number of Tables | 2 |
| Automatic Twin Pallet System | INCLUIDO/INCLUDED |
| Max allowed weight on table | 500 kg. |
| X Axis travel | 730 mm. |
| Y Axis travel | 850 mm. |
| Z Axis travel | 560 mm. |
| A Axis travel | 150º (-120º – 30º) |
| C Axis Index | ±360º |
| Turning Speed | 10.000 rpm |
| Number of Ranges | 2 |
| Taper | SK 50 |
| Head Power | 30/22 kW |
| Rapid Traverse X, Y, Z Axis | 42.000 mm/min |
| Max. Working Feed X, Y, Z Axis | 42.000 mm/min. |
| Rapid Traverse A, C Axis | 18.000 º/min |
| Max. Working Feed A, C Axis | 9.000 º/min |
| Automatic tool changer | |
| Tool changer positions | 40 |
| Tool change time | 4,5 seg. |
| Max. tool length | 400 mm. |
| Max. tool Diameter | 210 mm. |
| Other equipment | |
| Internal Coolant 20 Bar | INCLUIDO/ INCLUDED |
| Chip Conveyor | INCLUIDO/ INCLUDED |
| Others | |
| Total Power Required | 75,2 Kw. |
| Dimension (Length x Width x Hight) | 6.000 x 3.585 x 3.600 mm. |
| Machine Weight | 21.000 Kg. |
Detailed information of this 5 Axis Machining Centers
Second-hand MAZAK VARIAXIS 730 5X  5-axis machining center for sale in our warehouse in Zaragoza. It has been reviewed by our team and is ready for inspection and immediate delivery. It can be seen in operation.
Are you interested in this used Mazak 5-axis machining center?
Then do not hesitate and contact us. Whether you just want a free quote or see the machine in action, we'll be happy to help.
Fill out our contact form, call +34976500624 or write an email to the account sales@maquinariacolas.com.
ALL THE MACHINES ARE AVAILABLE SUBJECT TO PRIOR SALE
Technical specifications are not binding and may be modified without notice
Sold. Request information about this type of machinery