Ibarmia ZVH55-L3000
Request a quote
Technical Features of this 5 Axis Machining Centers
| | |
| --- | --- |
| Manufacturer | IBARMIA |
| Model | ZVH55 L3000 |
| Year | 2004 |
| CNC | HEIDENHAIN TNC-530 |
| Table Surface | 3.600 x 850 mm |
| Carrying Load Table | 2.000 kg. |
| T slots | 7 |
| T slot size | 1×18(H8)- 6X18(H12) |
| Distance between T slots | 125 mm. |
| Integrated Rotary Table | INCLUDED |
| Rotary Table Diameter | 800 mm. |
| Maximum Swing Diameter | 1.400 mm. |
| Travels (X/Y/Z) | 3.000/800/800 mm |
| Titling head range (B Axis) | ± 105º |
| Rapid Feed Axis (X, Y, Z) | 30 m/min |
| Rapid Feed for B axis | 170 rpm |
| Turning Speeds | 9.000 mm/min |
| Taper | BT-50 |
| Main Motor Power | 25 kW |
| Torque | 240 Nm |
| Automatic Tool Changer (ATC) | INCLUDED |
| ATC Type | Random |
| ATC Positions | 40 |
| Max tool length | 365 mm. |
| Max tool weight | 20 kg |
| Max tool Ø with full magazine | 125 mm. |
| Max tool Ø with adjacent positions empty | 175 mm. |
| Axis Measuring System | Heidenhain Optical ScaleS |
| Renishaw Piece Touch Probe | Heidenhain TT120 |
| Portable handwheel | Heidenhain HR-410 |
| Chip Conveyor | INCLUDED |
| Internal Coolant 20 Bar | INCLUDED |
| Cooled Electrical Cabinet | INCLUDED |
| Lateral Windows Opening to long parts | INCLUDED |
| 2 Longitudinay Chip Conveyors | INCLUDED |
| 1 cross chip conveyor | INCLUDED |
| Machine Weight | 22.800 kg |
| Total Power Required | 60 kW |
| Machine Dimensions (LxWxH) | 7.350 x 4.800 x 3.600 mm |
Detailed information of this 5 Axis Machining Centers
Second-hand Ibarmia ZVH55-L3000 5-axis machining center for sale. Revisied by our team, it is ready for immediate delivery at Maquinaria Colas, 50720 Zaragoza Spain. A space of over 12,000 square meters of exhibition of used machine tools where most of them can be seen in operation.
In this case, the used machine for sale is a 5-axis machining center of the Ibarmia ZVH series. New in 2004 with Heidenahain TNC-530 CNC, it has a tilting head of ± 105º and an integrated 800 mm rotary table.
It is highly equipped with, among others, 2 longitudinal and one transversal chip conveyors, 40 positions ATC, internal coolant and part measurement touch probe.
Are you interested in this second-hand Ibarmia ZVH55-L3000?
If you are thinking of buying a used Ibarmia multiprocess center, don't think twice and contact us.
Whether you want to know more about the machine,  come to see it in operation or simply receive a quote without commitment, we will be happy to help you.
Call the telephone number +34 976500624, write to sales@maquinariacolas.com or fill out our info request form. One of our experts in used Ibarmia machining centers will contact you and answer all your questions.
ALL THE MACHINES ARE AVAILABLE SUBJECT TO PRIOR SALE
Technical specifications are not binding and may be modified without notice
Other available 5 Axis Machining Centers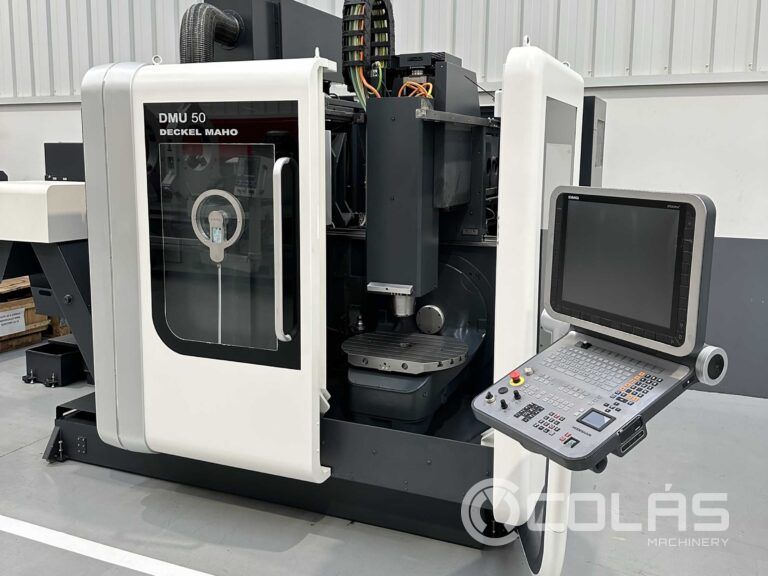 Deckel Maho DMU-50
New in 2011 with HEIDENHAIN iTNC530 Smart NC Table 630x500m. 0.001º 360º Travels: 500/450/400 mm. Titling range B axis -5º/+110º ATC 30 positions Tool touchprobe Internal coolant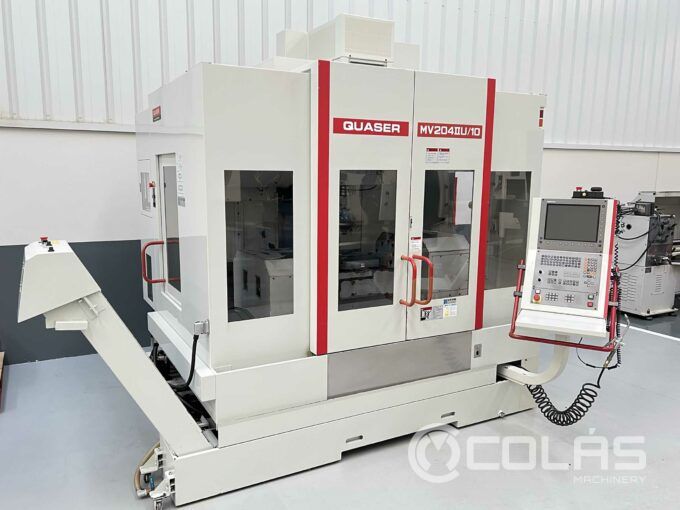 QUASER MV 204II U/10
Used Quaser 5 axis Machining center New in 2002. CNC HEIDENHAIN ITNC530 3 pallets Turning table (C Axis): 0.001º Travels (X/Y/Z): 700/590/480 mm. Titling spindle head range (A Axis):