Deckel Maho DMU-50
Request a quote
Technical Features of this 5 Axis Machining Centers
| | |
| --- | --- |
| Manufacturer | DMG |
| Model | DMU-50 |
| Year | 2011 |
| 3D CNC Control | HEIDENHAIN ITNC530 SMART NC |
| Screen Type | DMG ERGOLINE® CONTROL 19" |
| NC Swivel rotary table simultaneous | INCLUDED |
| Table Surface | 630×500 mm. |
| Max Weight Allowed on Table | 250 kg / pallet |
| Turning Table (C Axis) | 0.001º ( ±360º) |
| Axis | |
| Longitudinal Traverse (X Axis) | 500 mm |
| Cross Traverse (Y Axis | 450 mm |
| Vertical Traverse (Z Axis) | 400 mm |
| Rapid Feed (X/Y/Z Axis) | 42.000 mm/min |
| Working Feed (X/Y/Z Axis) | 10.000 mm./min. |
| Tiling Range (B Axis) | -5º/+110º |
| Spindle | |
| Spindle Speed | 10.000 r.p.m. |
| Taper | SK40-DIN 69871 |
| Main Motor Power | 25 kW |
| Automatic Tool Changer (ATC) | |
| ATC Positions | 30 |
| Max Tool Length | 300 mm. |
| Equipment | |
| Chip Conveyor | INCLUDED |
| Active control cabinet cooling | INCLUDED |
| Tool Touch Probe | INCLUDED |
| Direct Measuring System | INCLUDED |
| Flushing Gun | INCLUDED |
| Portable Handwheel | INCLUDED |
| Suction system | INCLUDED |
| Internal coolant | INCLUDED |
| Coolant deposit with paper filter | INCLUDED |
| Others | |
| Machine Dimensions ( LxWxH) | 5.100×3.200×2.750 mm. |
| Total power | 27 kVA |
| Machine Weight | 4.500 kg. |
Detailed information of this 5 Axis Machining Centers
Second-hand Deckel Maho DMU-50 machining centre for sale in our used machine shop in Zaragoza. It has been revised by our used machine experts and is ready for immediate inspection and delivery. It can be seen under power at your convenience
It is a 5-axis machining center manufactured in 2011 with a HEIDENHAIN ITNC530 SMART NC CNC. It is fully equipped with, among other things, a tool measurement touchprobe, internal coolant and a coolant tank with a paper filter.
Do you want to buy a used Deckel Maho DMU-50 5 axis machining center?
In this case, do not hesitate and contact us. You can do it in the email account sales@maquinariacolas.com, by calling our telephone number +34 976500624 or by filling out the contact form.
We will be happy to provide you with all the information you may need and a free quotation. If you prefer to come and see this 5-axis Deckel Maho DMU 50 center in operation, book an appointment by any of the means indicated above.
ALL THE MACHINES ARE AVAILABLE SUBJECT TO PRIOR SALE
Technical specifications are not binding and may be modified without notice
Other available 5 Axis Machining Centers
Ibarmia ZVH55-L3000
Ibarmia 5-axis machining center Travels (X/Y/Z): 3,000x800x800 mm. Table size: 3,600×850 mm. Integrated rotary table Ø800 mm. Tilting head range ± 105º 40 positions ATC Internal coolant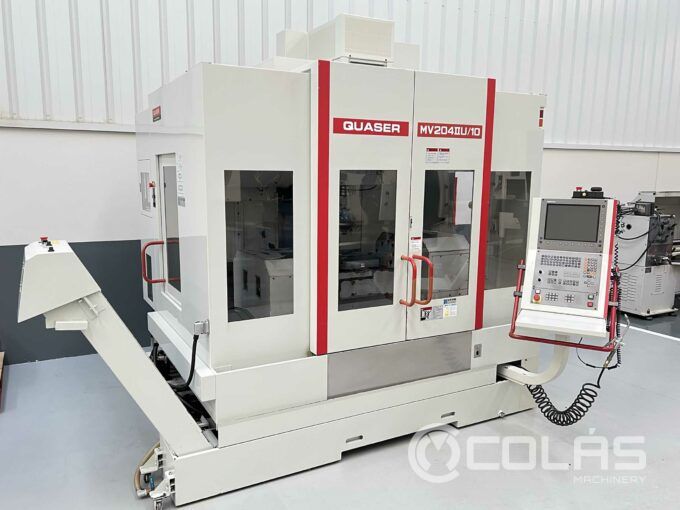 QUASER MV 204II U/10
Used Quaser 5 axis Machining center New in 2002. CNC HEIDENHAIN ITNC530 3 pallets Turning table (C Axis): 0.001º Travels (X/Y/Z): 700/590/480 mm. Titling spindle head range (A Axis):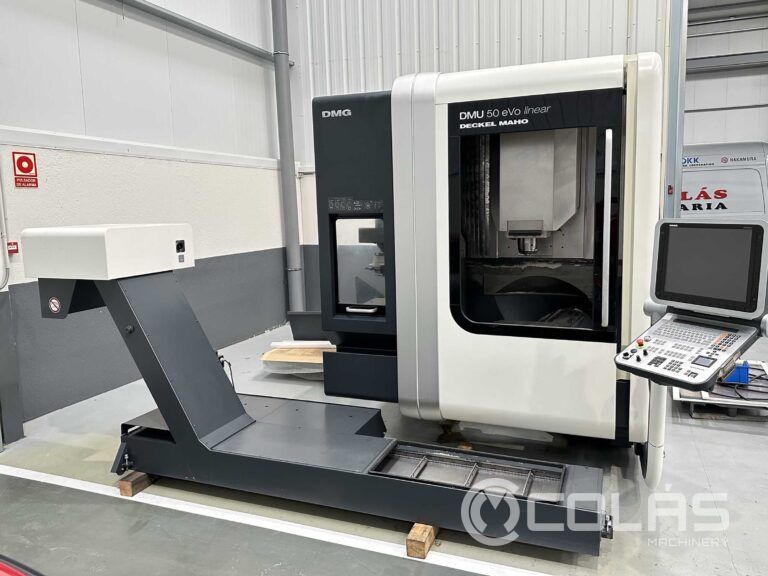 DMG DMU 50 eVo linear
New in 2008 with HEIDENHAIN i-TNC 530 NC Swivel rotary table 500×380 mm 0.001º ( ±360º) Travels (X/Y/Z) :501/451/401 mm Titling head :0º- 163º ATC 30 tools Internal coolant 40 bar with