Drag finishing machine ROESSLER R4/700 SF
Request information on similar machines
Other available Other machine tools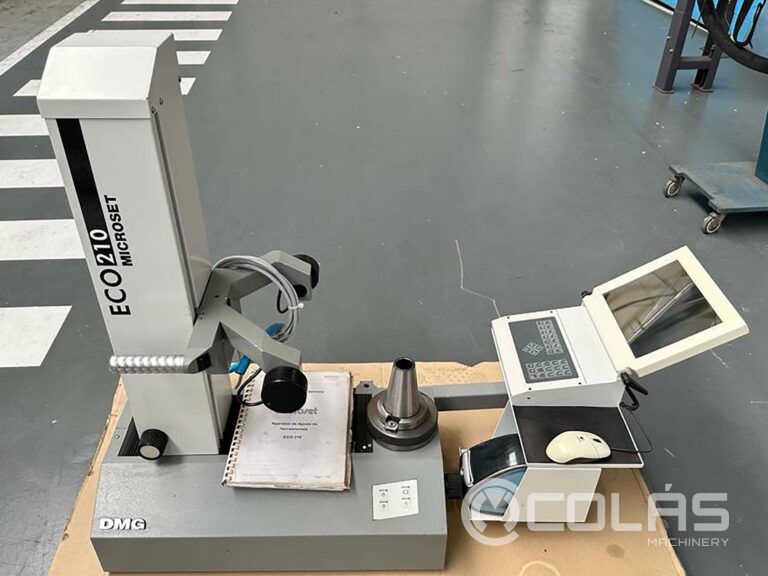 Tool presetter DMG Microset ECO-210
FMB Pegasus semi-automatic band saw
Semi-automatic band saw for cuts from 0º to 60º right New in 200 Tape development: 4.120x34x1.1 mm. Belt speed: 16/120 m/min Total power: 3 kW Roller way: INCLUDED Automatic jaw
Technical Features of this Other Machine Tool
Manufacturer
Rössler
Model
Drag Finisher R4/700 SF
New in 2018
Number of work stations
4
Number of work bowls
1
Work bowl diameter
700 mm.
Work bowl capacity
150 l.
Work bowl internal coating
RÖSLER HD90
Overall dimensions (L x W x H)
2.1 x 1.5 x 2.6 m.
Equipment
Protection cabin
INCLUDED
Motorized rotary carousel
INCLUDED
Hydraulic raising / lowering system for carousel
INCLUDED
4 workstations with independent carousel motor
INCLUDED
Speed adjustment by frequency inverter
INCLUDED
Tank immersion control
INCLUDED
Bimanual positioning of workstations
INCLUDED
Additional work bowl for dry processing
INCLUDED
Detailed information of this Other Machine Tool
Used DRAG FINISHING MACHINE ROESSLER R4/700 SF for sale
Impingement-free mass finishingDrag Finishing systems are ideal for finishing high value and sensitive parts which cannot touch each other during the finishing process.A rotary carousel "drags" the workpieces through the media mass. The rotation of both the carousel and the spindles guarantee an even treatment of the parts. Drag finishing offers a metal removal rate which is up to 40 times higher than mass finishing.Rösler drag finishers are compact and equipped with frequency inverters for variable rotary speeds of carousel and work station drives. The main drive unit is designed for up-and-down movement.
Are you interested in this used DRAG RÖSLER R4/700 SF?
Then do not heistate and contact us. Whether you just want more information and know the price, or if you prefer to come and see the machine in operation, we will be happy to help you.
Call +34 976500624, write to sales@maquinariacolas.com or fill in the contact form.
ALL THE MACHINES ARE AVAILABLE SUBJECT TO PRIOR SALE
Technical specifications are not binding and may be modified without notice
Sold. Request information about this type of machinery