Tool presetter DMG Microset ECO-210
Request a quote
Technical Features of this Metrology / Quality Control
Detailed information of this Metrology / Quality Control
Used DMG Microset ECO 210 tool presetter system for sale. Available at our machine tool warehouse at 50720 Zaragoza Spain for inspection and immediate delivery.
The efficiency of the DMG Microset ECO 210 tool presetting machines optimizes the machining process right from the start. Helps increase the life of your tools, achieve better surface finishes and improve overall safety in your production.
Tool presetting with highest precision and speed. Its satisfies all aplication needs and offers the perfect solution for various tool sizes and machine environments
The highly efficient tool presetting devices from DMG Microset are the most productive and efficient. Presetting parallel to production time leads to significative time savings: setup times are optimized and machine downtimes are significantly reduced.
Improved tooling with safe, early detection of damaed toosl reduces the number of rejected parts and enhances quality. Cutting inspection guarantees the highest processing safety, starting with the first workpiece
Are you interested in this second hand DMG tool presetter?
Then do not hesitate and contact us. Call +34976500624, write to sales@maquinariacolas.com or fill in the contact form. We will be happy to answer all your questions and send you machine price.
ALL THE MACHINES ARE AVAILABLE SUBJECT TO PRIOR SALE
Technical specifications are not binding and may be modified without notice
Other available Metrology / Quality Control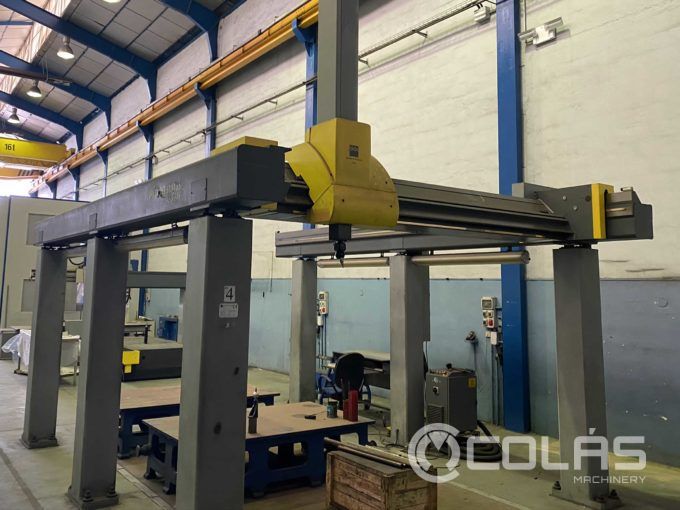 DEA ALPHA STATUS Coordinate Measuring Machine
Gantry Type CMM in liquidation sale New in 2008 Measuring Range (X/Y/Z): 5.000/2.500/1.500 mm. Measuring Head RENISHAW PH
FMB Pegasus semi-automatic band saw
Semi-automatic band saw for cuts from 0º to 60º right New in 200 Tape development: 4.120x34x1.1 mm. Belt speed: 16/120 m/min Total power: 3 kW Roller way: INCLUDED Automatic jaw