FORADIA GR50/1200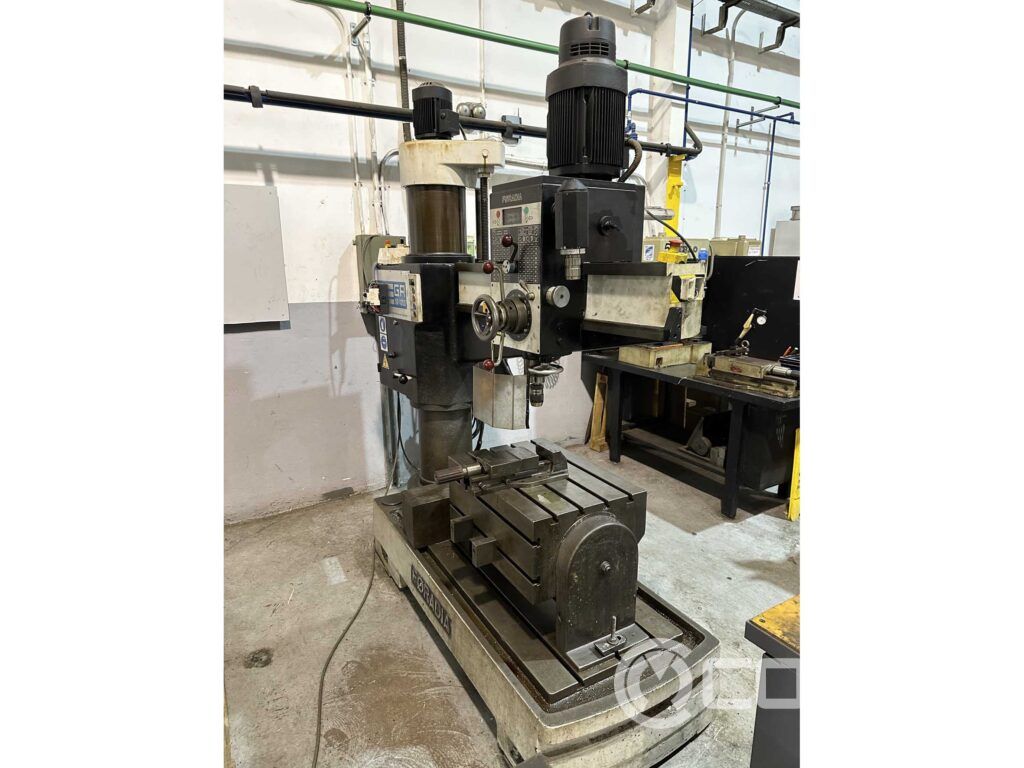 Request a quote
Technical Features of this Drilling Machine
| | |
| --- | --- |
| Ø Máximo de Taladrado | 50 mm |
| Diámetro de la Columna | 300 mm |
| Brazo útil desde borde columna | 1200 mm |
| Distancia máxima husillo-base | 1165 mm |
| Cono Morse | Nº 4 |
| Motor del Husillo | 4 CV |
| Nº de Velocidades | 12 Velocidades |
| Gama de rpm | 35-1460 rpm |
| Nº de Avances | 6 Avances |
| Gama de Avances | 0.05 – 0,35 mm/rpm |
| Mesa Cúbica | INCLUIDA |
| Dimensiones Mesa Cúbica | 800x5000x500 mm |
| Mesa Cúbica | INCLUIDA |
| Bloqueo Automática Columna + Carro | INCLUIDO |
| Superficie de la Base | 1345×750 |
| Peso de la Máquina | 2300 Kg. |
| Estado de la Máquina | EXCELENTE |
Detailed information of this Drilling Machine
Second-hand FORADIA GR50/1200 radial drill on clearance sale. It is still at the original location in excellent condition ready for inspection and immediate delivery.
There are many advantages of this model of Foradia GR 50-1200 radial drills: excellent quality, sales record, popularity and durability. The GR 50/1200 model of Foradia radial drills have been sold to customers worldwide and after many years of hard work, they are in perfect condition.
Do you need to buy used radial drills?
Then do not hesitate and contact us. You can do so by calling our customer service telephone number 976500624, writing an email to sales@maquinariacolas.com or filling out our contact form. We will be happy to provide you with all the information you need and a price.
Take the opportunity and get this second-hand FORADIA GR50/1200 radial drill at liquidation price.
ALL THE MACHINES ARE AVAILABLE SUBJECT TO PRIOR SALE
Technical specifications are not binding and may be modified without notice