Used Geka Hydracrop 70/SD
Request information on similar machines
Other available Other machine tools
FMB Pegasus semi-automatic band saw
Semi-automatic band saw for cuts from 0º to 60º right New in 200 Tape development: 4.120x34x1.1 mm. Belt speed: 16/120 m/min Total power: 3 kW Roller way: INCLUDED Automatic jaw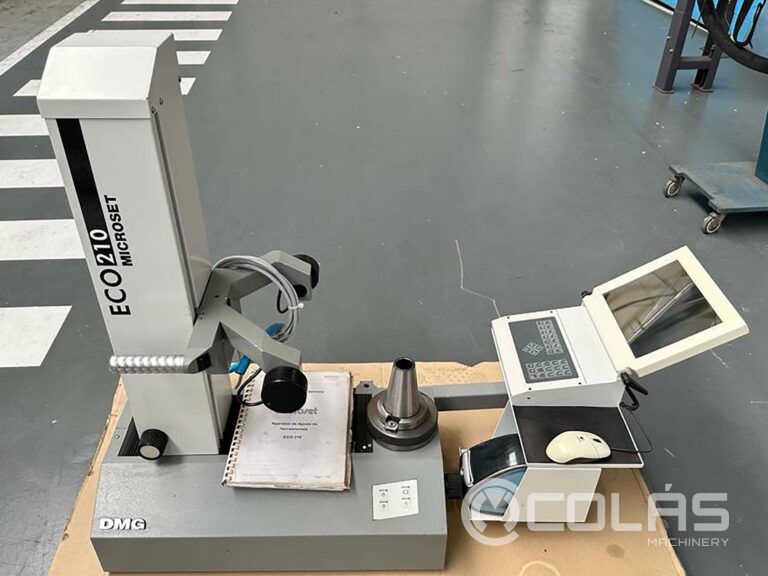 Tool presetter DMG Microset ECO-210
Technical Features of this Other Machine Tool
Detailed information of this Other Machine Tool
Second-hand Geka Hydracrop 70/SD for sale. Available  at our warehouse in 50720 Zaragoza, Spain
It has a wide space between the punch holder and the die holder, ideal for punching profiles or for the installation of small dies.
It has 2 independent hydraulic cylinders for the following jobs:
punching
fitted
· shearing of L profiles
· plate cutting
bar cutting
Features included in this machine:
· Quick change of punch.
· Tire cutting table with adjustable guides.
· 2 simultaneous jobs.
· Greater speed developed by a powerful hydraulic unit.
· Special approach equipment at reduced pressure and slow speed.
· Large punching table with millimetric stops.
· Wide notching table with millimetric stops.
Do you want to buy a second-hand Geka punching and shearing machine for dies and profiles?
Then contact us and take advantage of the opportunity to get this used Geka Hydracrop 70/SD at the best price. Call us at 976500624, write to sales@maquinariacolas.com or fill in the contact form  at the bottom of the page.
We will be happy to help you to solve all your doubts and send you a budget without any commitment.
ALL THE MACHINES ARE AVAILABLE SUBJECT TO PRIOR SALE
Technical specifications are not binding and may be modified without notice
Sold. Request information about this type of machinery