GEMINS GHT-5 G2 1000X8000 CNC Lathe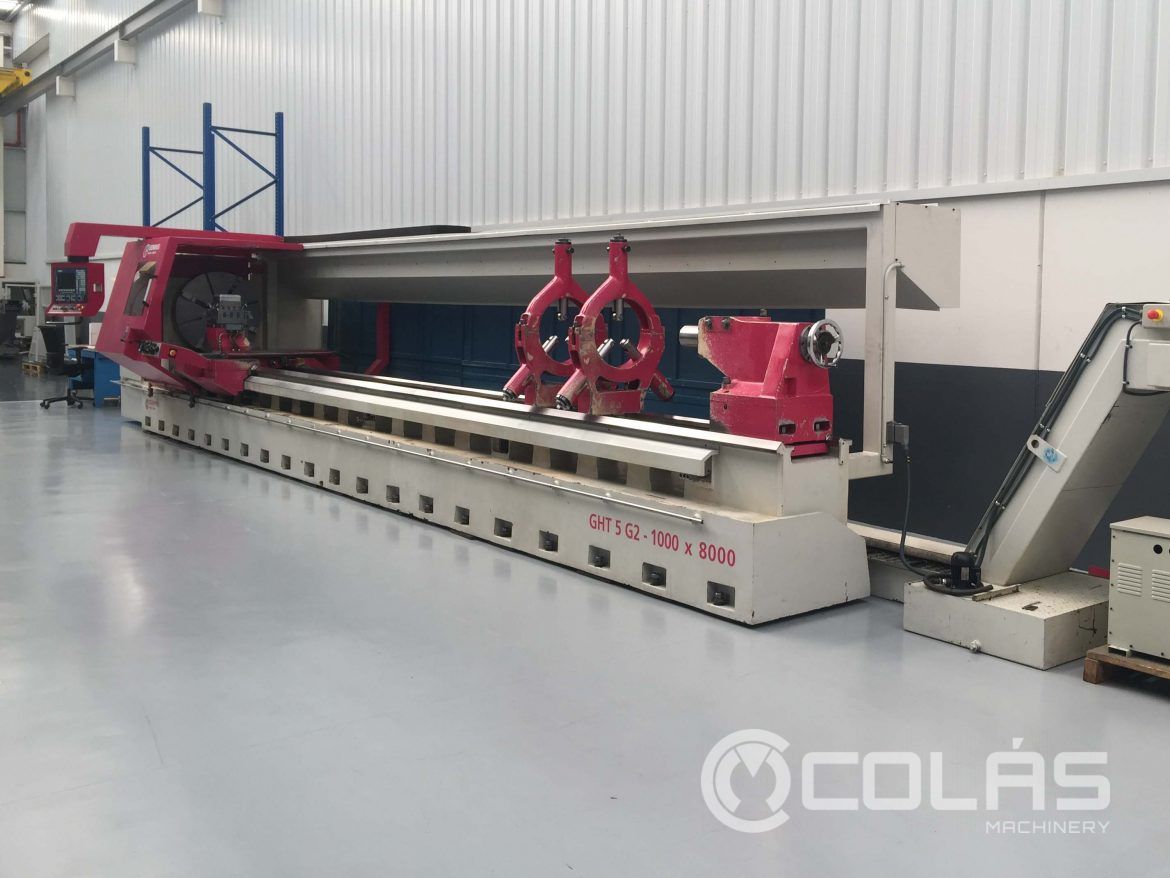 Request information on similar machines
Other available CNC Lathes
Technical Features of this Second Hand CNC Lathe
| | |
| --- | --- |
| New in | 2006 |
| CNC | Fagor 8055 TC |
| Max. Swing Over Bed Ø | 1.000 mm. |
| Max. Swing Ø | 1.000 mm. |
| Max Swing Over Cross Slide Ø | 680 mm. |
| Distance Between Centres | 8.000 mm. |
| Rapid Feed X, Z Axis | 8 m/min |
| Turning Speeds | 0-1400 rpm |
| Spindle Automatic Ranges | 4 Ranges |
| Main Spindle Motor Power | 37 Kw. |
| Spindle Nose | DIN-55026-B11 |
| Turret Positions | 4 posiciones/ positions |
| Turret Type | SAUTER 300 X 300 |
| Chuck with 4 Indep. Hard Jaws Ø900 mm | . INCLUDED |
| 2 Steady Rest 3 Supports Ø 430 mm | INCLUDED |
| Chuck Protection | INCLUDED |
| Complete Rear Protection | INCLUDED |
| Longitudinal Chip Conveyor | INCLUDED |
| Quill Travel | 104 mm. |
| Ø Tailstock Quill | 140 mm |
| Tailstock Quill Traverse | 300 mm |
| Max.Weight Between Centres (1 Steady) | 6.200 Kg. |
| Piece Max. Weight Between Centres | 4.800 Kg. |
| Machine Weight | 16 Tn. |
| Total Power Required | 45 Kw. |
Detailed information of this Second Hand CNC Lathe
Used GEMINS GHT-5 G2 1000X8000 CNC Lathe for sale at our second-hand lathe warheouse in Zaragoza.
We have a permanent stock of used machine tools in continuous change A space of over 12,000 sqm available to our customers so that they can always find the machine they need at a price they can afford.
Manufactured in 2006 with solid and durable architecture, this used GEMINS GHT-5 G2 1000X8000 CNC Lathe has a Fagor 8055 TC CNC installed that offers high response speed, reliability, and maximum precision. In addition, its versatility and ease of use and programming will become the best ally of your staff.
Among the equipment included are a chuck with 4 Independent Claws Ø 900 mm, 2 steady rests with 3 jaws of Ø 430 mm, chuck protection, complete rear protection and longitudinal chip evacuator.
Do you want to buy this used Geminis lathe?
Then do no hesitate and contact us. Get all the information you need as well as budget.
Call us at +34976500624, write to  sales@maquinariacolas.com or fill in the form that appears at the bottom of the page. We will contact you.
If you prefer, come and visit us. You will see the usedGEMINS GHT-5 G2 1000X8000 CNC Lathe  under power. We are delighted to welcome you to our company.
ALL THE MACHINES ARE AVAILABLE SUBJECT TO PRIOR SALE
Technical specifications are not binding and may be modified without notice
Sold. Request information about this type of machinery