PINACHO JAP STS 285 x 1.500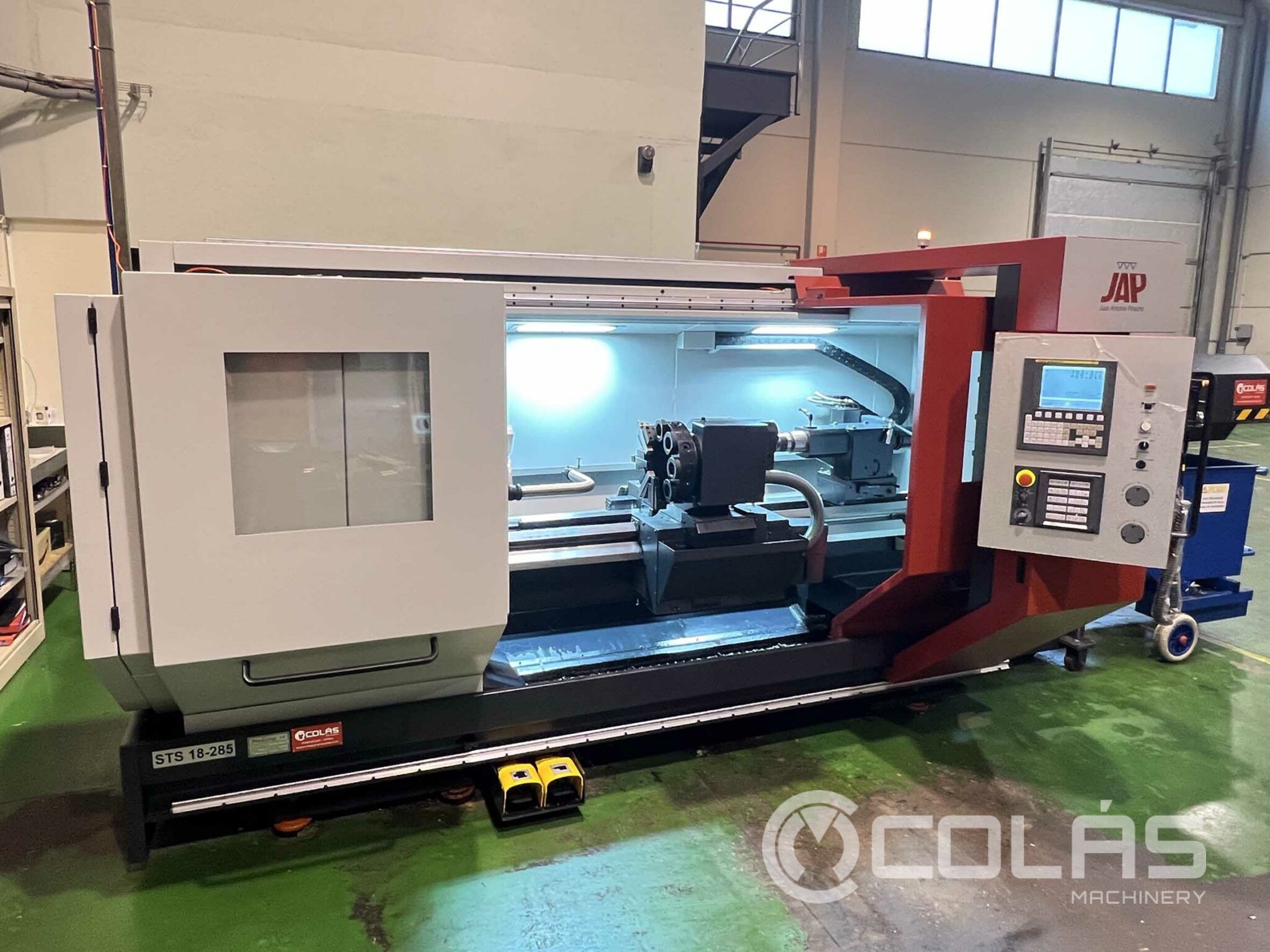 Request information on similar machines
Other available CNC Lathes
Gurutzpe A 1000/3 x 4000
4 meter used  Gurutzpe CNC Lathe New in 2003. CNC FAGOR 8055 Max swing over bed :800 mm. C Axis and driven tools Turret SAUTER VDI 50 12 positions Chip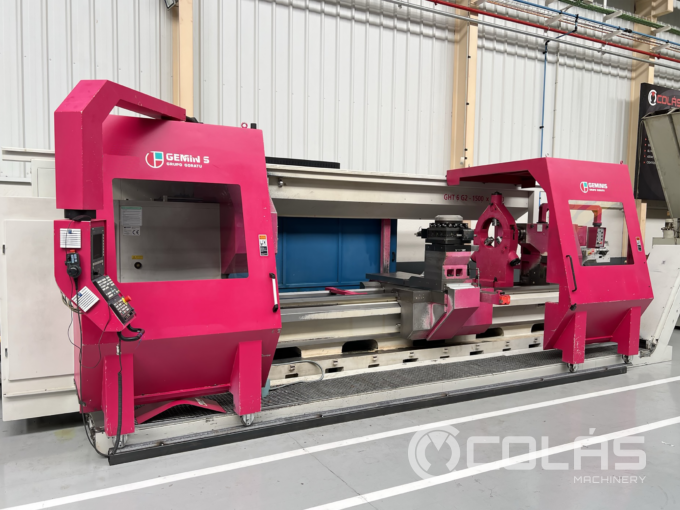 Geminis GHT6 G2 1500 x 4000
New  in 2006 with SIEMENS 840-D Max. Swing over bench: 1,500 mm. Distance between centers: 4,000 mm SAUTER turret 4 positions Driven tailstock 180 mm 2x longitudinal chip conveyor 15 bar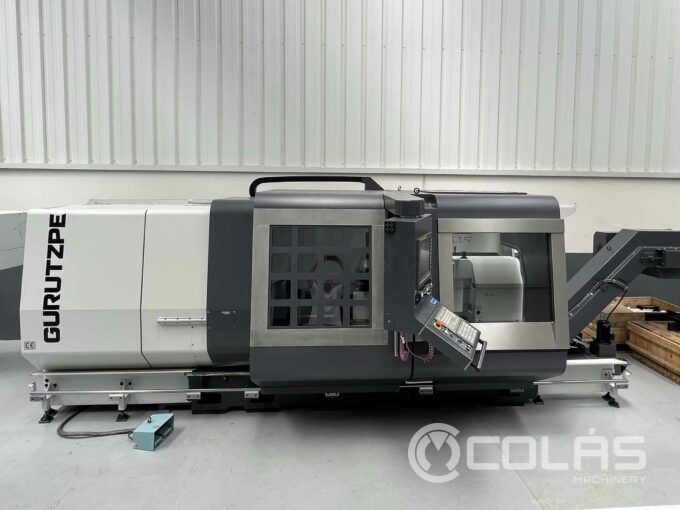 GURUTZPE GL-10.5 1,5
Second-hand Gurutzpe lathe new in 2018 CNC FANUC Series Oi-TF (15") Distance between centers: 1,500 mm. Máx turning over bench/carriage: 900/700 mm. Baruffaldi TAN-210/4 turret with 4
Technical Features of this Second Hand CNC Lathe
| | |
| --- | --- |
| Brand | PINACHO |
| Model | JAP STS-285 x 1,500 |
| New in | 2019 |
| CNC |   FANUC OI-TF |
| Height of center | 285 mm. |
| Distance between centers | 1,500 mm. |
| Max diameter over bed | 570 mm. |
| Max. diameter over longitudinal/transversal carriage | 490/360 mm |
| Cross slide travel | 300 mm |
| Longitudinal/cross carriage length | 550/600 mm |
| Bed width | 350 mm. |
| Main spindle hole | 80 mm. |
| Main taper | ASA A2-8- CAM-L D1-8 |
| Morse taper main axis | MT-5 |
| Speed ​​range | 0-2,500 r.p.m. |
| Work feeds Z-X | 0-7,500 mm/min |
| Rapid feed Z/X | 12/15 m/min |
| Tailstock quill diameter | 95 mm |
| Tailstock quill travel | 220 mm |
| Tailstock Morse Taper | MT-5 |
| Ø internal tool | 40 mm |
| Repetitivity and Accuracy | 0.01 mm |
| Head equipped with servomotor and direct transmission to the main shaft | INCLUDED |
| Fairing according to C.E Standards | INCLUDED |
| Refrigeration equipment | INCLUDED |
| Automatic guide lubrication | INCLUDED |
| Lighting light and traffic light | INCLUDED |
| Additional equipment | |
| Hydraulic kit | Hydraulic chuck with 3 jaws of Ø 310 mm with 68 mm bar hole, hydraulic tailstock and hydraulic power unit |
| Turret | DISCO 8 positions VDI-30 |
| Portable handwheel | INCLUDED |
| Chip conveyor | INCLUDED |
| Tool presetter Renishaw | INCLUDED |
| Fixed steady rest 10-180 mm capacity | INCLUDED |
| Others | |
| Main motor power | 15 kW |
| Machine dimensions | 3,325 x 1,350 x 1,850mm |
| Machine weight | 2,800 Kg |
Detailed information of this Second Hand CNC Lathe
Second hand PINACHO JAP STS 285 x 1.500 CNC  lathe for sale. Manufactured in 2018 with CNC FANUC OI-TF, it is available in Zaragoza ready for immediate delivery. It can be seen in operation.
It is a CNC lathe from Pinacho's most sophisticated range, the ST, designed to satisfy the most demanding customers. The best components have been used in its manufacture.
and market materials.
This machine is characterized by its rigidity, precision and flexibility for turning all kinds of parts, from the simplest to the most complex and precise. This is an easy-to-use lathe, which, given the additional equipment, is prepared to provide a solution for all types of turning.
It's a silent and easy-to-use machine, with a head made up of a servo-motor and direct transmission to the main axis, providing a high turning speed and excellent quality in surface finishes.
Includes among others:
Control: FANUC OI-TF CNC system with precise calculation nano-technology and latest generation servomotors.
"Al Contouring Control" for high speed and precision machining. 8.4" color monitor.
"Smooth Tolerance Control" that allows easy adjustment of the precision required for machining.
"Smart Overlap" facilitates a shorter cycle time for machining parts.
The HRV servo provides high speed and precision.
"FANUC Servo Guide" for fast and intelligent turning.
Are you interested in this used PINACHO JAP STS 285 x 1.500?
If you are looking for a second-hand Pinacho lathe, do not hesitate and contact us. Do not miss the opportunity to get this semi-new PINACHO JAP STS 285 x 1.500 at the best price.
Call us at +34976500624. write to sales@maquinariacolas.com or fill in the contact form. We will be happy to provide you with all the information you need and a free estimate.
ALL THE MACHINES ARE AVAILABLE SUBJECT TO PRIOR SALE
Technical specifications are not binding and may be modified without notice
Sold. Request information about this type of machinery