GEMINIS GHT5-G2 1000×4000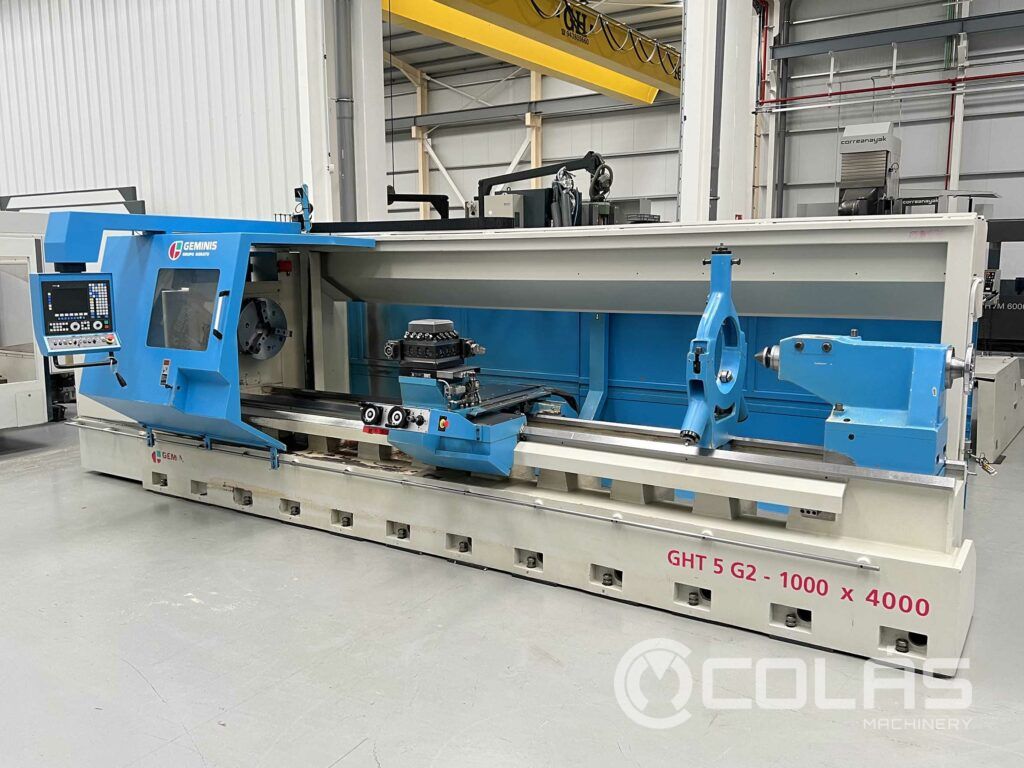 Request information on similar machines
Other available CNC Lathes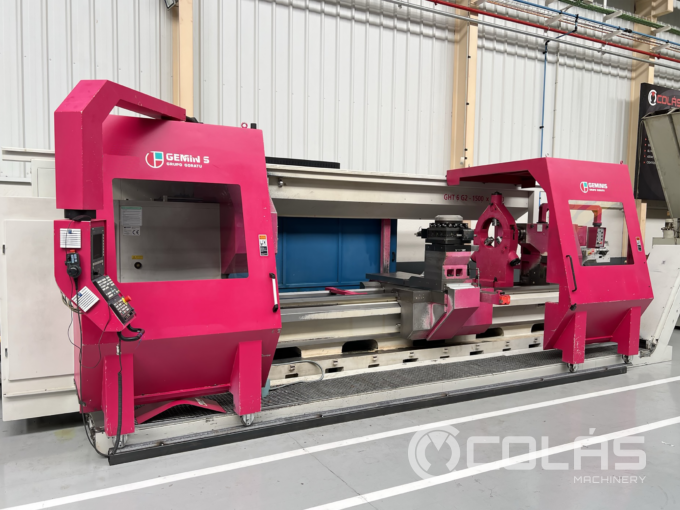 Geminis GHT6 G2 1500 x 4000
New  in 2006 with SIEMENS 840-D Max. Swing over bench: 1,500 mm. Distance between centers: 4,000 mm SAUTER turret 4 positions Driven tailstock 180 mm 2x longitudinal chip conveyor 15 bar
Gurutzpe A 1000/3 x 4000
4 meter used  Gurutzpe CNC Lathe New in 2003. CNC FAGOR 8055 Max swing over bed :800 mm. C Axis and driven tools Turret SAUTER VDI 50 12 positions Chip
DAEWOO PUMA 2000-SY
New in 2003 with CNC FANUC 18i – T Max swing over bed/ carriage:  600/550 mm. Y Axis Travel: 100 (±50) mm. B Axis Travel: 580 mm. C axis 0.001º Driven turret positions
Technical Features of this Second Hand CNC Lathe
| | |
| --- | --- |
| Manufacturer | GEMINIS |
| Model | GHT-5 G2 1000×4000 |
| Year | 2.007 |
| CNC | FAGOR 8055 TC/C |
| Max.Swing Over Bed Ø | 1.000 mm. |
| Max. Swing Ø | 1.000 mm. |
| Max Swing Over Cross Slide Ø | 680 mm. |
| Distance Between Centres | 4.000 mm. |
| Rapid Feed X, Z Axis | 8 m/min |
| Turning Speeds | 0-1400 rpm |
| Automatic Speed Ranges | 4 |
| Main Spindle Motor Power | 37 kW. |
| Spindle Nose | DIN-55026-B11 |
| Turret Positions | 4 |
| Turret Type | SAUTER 300 X 300 |
| C Axis | INCLUDED |
| Ready for installation Milling Head with Y Axis ((±50 mm). Installation in carriage | INCLUDED |
| Ready to installation of grinding head | INCLUDED |
| 3 Jaw universal chuck Ø500 mm. | INCLUDED |
| 4 Jaw independent chuck Ø700mm. | INCLUDED |
| 3 support steady rest 70-410 mm. | INCLUDED |
| Mobile steady rest 40-160 mm. | INCLUDED |
| Longitudinal chip conveyor | INCLUDED |
| High pressure pump 6 bar | INCLUDED |
| 25 Tool Holder ( Capto Type) | INCLUDED |
| 10 set of Jaws for Universal Chuck 3 Jaws | INCLUDED |
| Chuck Protection | INCLUDED |
| Quill Travel | 104 mm. |
| Tailstock quill Ø | 140 mm |
| Tailstock quill travel | 300 mm |
| Max Weight Between Centres (1 steady) | 6.200 kg |
| Max. Weight Between Centres | 4.800 kg |
| Machine Weight | 12.000 kg |
| Total Power Required | 45 kW |
Detailed information of this Second Hand CNC Lathe
Second-hand GEMINIS GHT5-G2 1000×4000 CNC lathe for sale. Available for inspection and immediate delivery in our warehouse in 50720  Zaragoza, Spain. It has been reviewed by our team of experts in new and used Geminis CNC lathes.
Do you want to know more about this used 4 meter Geminis lathe?
Then do not hesitate and contact us. Whether you just want to know the price of this Geminis lathe or want more information and come see the machine in operation, we'd be happy to help.
Fill out our contact form, call +34 976500624 or write an email to sales@maquinariacolas.com. One of our experts in Geminis lathes will contact you and provide you with all the information on this used GEMINIS GHT5-G2 1000×4000
ALL THE MACHINES ARE AVAILABLE SUBJECT TO PRIOR SALE
Technical specifications are not binding and may be modified without notice
Sold. Request information about this type of machinery