DMG DMC 100U duoBLOCK
Request information on similar machines
Other available 5 Axis Machining Centers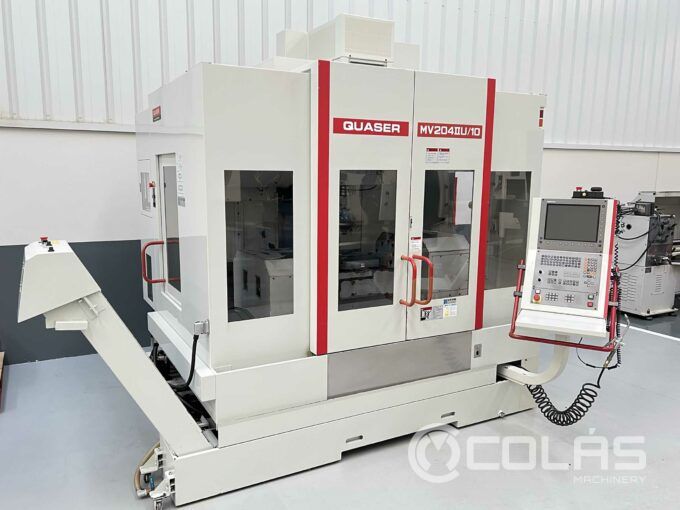 QUASER MV 204II U/10
Used Quaser 5 axis Machining center New in 2002. CNC HEIDENHAIN ITNC530 3 pallets Turning table (C Axis): 0.001º Travels (X/Y/Z): 700/590/480 mm. Titling spindle head range (A Axis):
Technical Features of this 5 axis machining center
Manufacturer
DECKEL MAHO
Model
DMC 100 U duoBlock
Year
2006
CNC
HEIDENHAIN iTNC 530
NC Rotary Table
Pallet Changer for 2 pallets
INCLUDED
2 Pallets
INCLUDED
Pallet dimensions
1.000x800mm
Max Weight Allowed on pallet changer
1000 kg
Swivelling range (C Axis)
0.001º (Continuo)
Turning speed max 4th Axis
10.3 r.p.m.
Axis
Longitudinal Traverse (X Axis)
1.000 mm.
Cross Traverse (Y Axis
1.000 mm.
Vertical Traverse (Z Axis)
1.000 mm.
Rapid Feed (X/Y/Z Axis)
60.000 mm./min.
Working Feed (X/Y/Z Axis)
10.000 mm./min.
Headstock
Horizontal / Vertical Auto Indexing Head (A Axis)
0.001 º (Continuo)
Taper
SK 50 DIN 69871
Spindle power
44 kW
Spindle speed
20-10.000 r.p.m.
Automatic Tool Changer (ATC)
ATC Type
Chain Horizontal
ATC Positions
120
Extra equipment
Internal Coolant 80 Bar
INCLUDED
Chip Conveyor
INCLUDED
Spray pistol
INCLUDED
Portable Handwheel
HEIDENHAIN HR-410
Renishaw part touch probe
INCLUDED
Full protection cabin
INCLUDED
Coolant temperature control, heat and cool
INCLUDED
User manual/ Documentation/Machine parameters
INCLUDED
HEIDENHAIN Optical Scale
INCLUDED
Others
Total Power
86 kVA
Machine Dimensions (LxWxH)
4.821 x 5.148 x 3.355 mm.
Machine Weight
24.000 kg.
Detailed information of this 5 axis machining center
ALL THE MACHINES ARE AVAILABLE SUBJECT TO PRIOR SALE
Technical specifications are not binding and may be modified without notice
Sold. Request information about this type of machinery