ONA QX8 B1L – die-sinking EDM
Request a quote
Technical Features of this Second Hand EDM
| | |
| --- | --- |
| Manufacturer | ONA |
| Model | QX8 B1 L |
| Year | 2016 |
| Head | |
| Max electrode weight | 200 kg. |
| Max electrode weight with static "C" axis | 50 kg. |
| Max electrode weight with dynamic "C" axis | 12 kg. |
| Max distance between electrode plate and table w/o "C" axis / with "C" axis | 1.200/1.170 mm. |
| 15 electrode changer | INCLUDED |
| Permissible weight in electrode changer | 70/10 kg. |
| TRAVELS | |
| Longitudinal travel (X) | 2.000 mm. |
| Cross travel (Y) | 750 mm. |
| Vertical travel (Z) | 650 mm. |
| C axis range | 360º |
| XYZ positioning resolution | 0.0001 mm. |
| C positioning resolution | 0.001º |
| X, Y maximum travel speed | 6.000 mm/min. |
| Z maximum travel speed | 18.000 mm/min. |
| Table | |
| Table surface | 2.200 x 1.000 mm. |
| Work tank dimensions | 2.800/1.500/1.000 mm. |
| Max weight allowed on table | 20..000 kg. |
| Max height of the workpiece | 900 mm. |
| Others | |
| Machine Weight | 16.000 kg. |
| Required space | 5.440 x 4.980 mm. |
| Machine height | 3.585 mm. |
| Required power | 13,5/17 kVA |
Detailed information of this Second Hand EDM
Second-hand ONA QX8 die-sinking EDM on  clearance sale. It is still in the original location (Valencia, Spain) ready to be seen in operation – by appointment only. Immediate delivery.
Belonging to the ONA QX range of  die-sinking EDM, this used ONA QX8 B1 L is certaninlhy a great choice.
Designed with state-of-the-art digital technology, it ensures greater profitability, optimizing times and guaranteeing perfect results.
Its robust design facilitates greater precision and its intuitive visual environment helps the user to obtain the best results. It is a top class machine that incorporates one of the most innovative, efficient and high-performance technologies available on the market.
Has been designed with an ECO philosophy in response to our commitment to a more sustainable world.
Are you interested in this ONA QX8 B1 L die-sinking EDM on sale?
Then don't waste a minute. Opportunities like this don't come along every day. If you want to know more, call us at +34 976500624, send an email to sales@maquinariacolas.com or fill out our personalized offer request form.
We will provide you with all the information you need about this ONA QX8 B1L sinking EDM and a no-obligation quote.
If you want to come see the machine in operation, book an appointment by any of the methods indicated above. Upon arrival, one of our technicians will have the machine ready to show you how it works and give you all the explanations you need.
ALL THE MACHINES ARE AVAILABLE SUBJECT TO PRIOR SALE
Technical specifications are not binding and may be modified without notice
Other available EDM Machines
ONA HS 400 die-sinking EDM
New  in 2004 Travels (X/Y/Z): 600/400/400 mm. C axis travel: 360º Table surface:800 x 600 mm. Tank dimensions: 1,200/800/400 mm. Max weight allowed on table: 1,500 kg. Maximum height of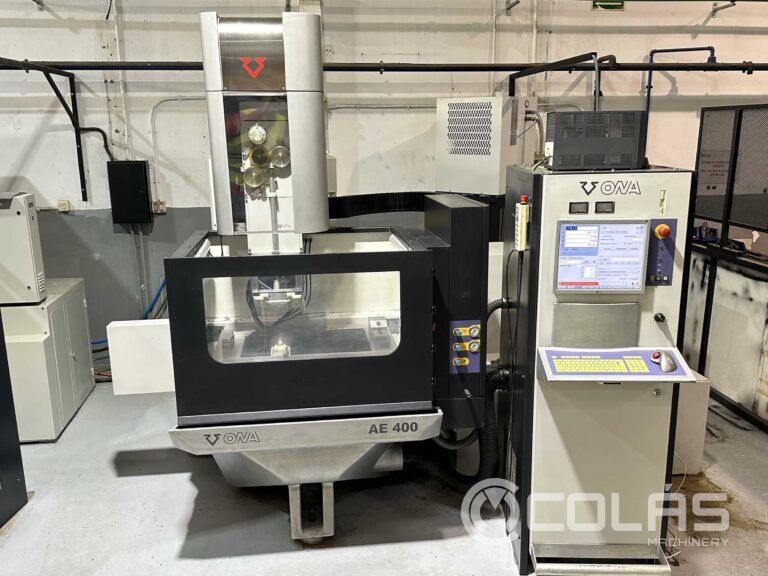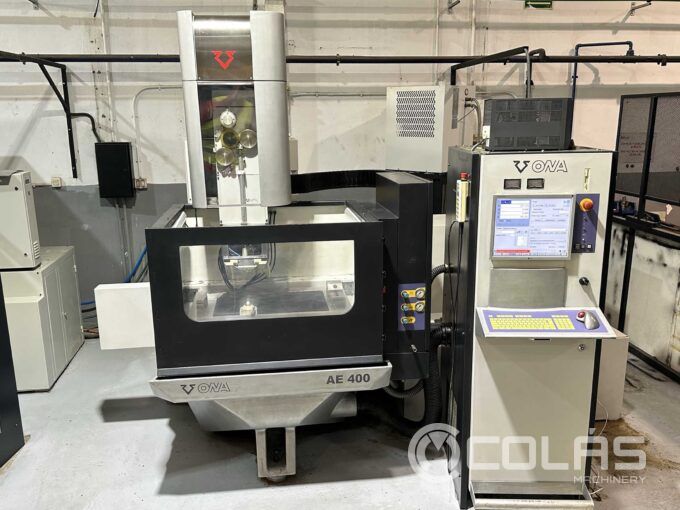 ONA AE 400 – Wire EDM
New in 2006 Travels (X/Y/Z): 600/400/400 mm. Travels U-V : 80×80 mm. Max, workpiece weight: 3,000 kg Max workpiece size (X/Y/Z): 1,000 x 810 x 400 mm. Max speed of the axis: 2,000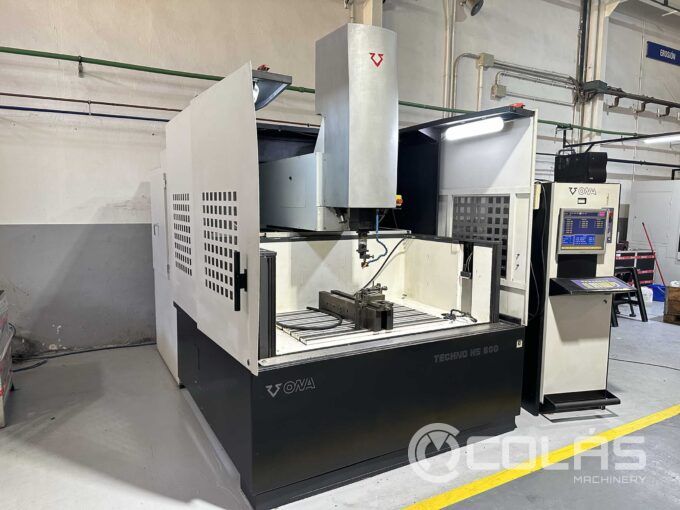 ONA HS 600 – die-sinking EDM
Manufactured in 2002 Electrode holder travel: 500 mm. Travel (X/Y/Z): 1,000/600/500 mm. C axis travel: 360º Table surface: 1,200 x 800 mm. Tank dimensions:1,700/1,000/600 mm. Max weight /