ONA AE 400 – Wire EDM
Request a quote
Technical Features of this Second Hand EDM
| | |
| --- | --- |
| Manufacturer | ONA |
| Model | AE 400 |
| Year | 2006 |
| Longitudinal travel (X) | 600 mm. |
| Cross travel (Y) | 400 mm. |
| Vertical travel (Z) | 400 mm. |
| U-V travel | 80×80 mm. |
| Max workpiece weight | 3.000 kg. |
| Max workpiece size (X/Y/Z) | 1.000 x 810 x 400 mm. |
| Max speed axis | 2.000 mm./min. |
| Conical cutting angle | ±9º / 400 mm |
| Max. angle of conical cut | ±30º / 95 mm |
| Wire diameter | 0.10 – 0.30 mm. |
| Wire spool type | DIN 100 – DIN 125 – DIN 160- DIN 200 – DIN 355 |
| Guide type | Cerrada de diamante de alta precisión |
| Min hole diameter | 0.5 mm. |
| Position resolution (X/Y/Z/U/V) | 0.001 mm. |
| Min programable increment (X/Y/Z/U/V) | 0.001 mm. |
| 5 controlled axis | (X/Y/Z/U/V) |
| Max. power | 13 kVA |
| Machine Weight | 3.900 kg. |
Detailed information of this Second Hand EDM
Second-hand ONA AE 400 Wire EDM on  clearance sale. It is still at the original location (Valencia, Spain) where it can be seen under power.
Do you need to buy an used ONA wire EDM?
Then don't think twice and contact us. Take advantage of the opportunity and get this second-hand ONA AE 400 Wire EDM at a clearance price. Whether you just want to receive a quote, you need  further information or you want to set an appointment to come and see the machine in operation, we will be happy to help you.
Call the telephone number +34 976500624, write an email to sales@maquinariacolas.com or fill out the quote request form. We will inform you!
ALL THE MACHINES ARE AVAILABLE SUBJECT TO PRIOR SALE
Technical specifications are not binding and may be modified without notice
Other available EDM Machines
ONA HS 400 die-sinking EDM
New  in 2004 Travels (X/Y/Z): 600/400/400 mm. C axis travel: 360º Table surface:800 x 600 mm. Tank dimensions: 1,200/800/400 mm. Max weight allowed on table: 1,500 kg. Maximum height of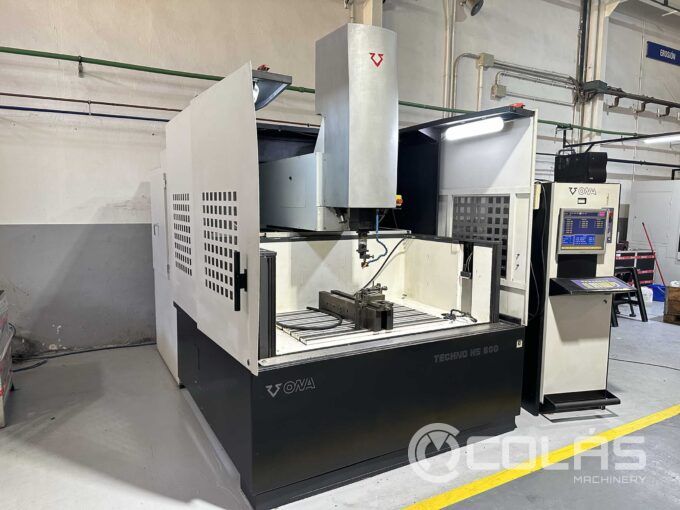 ONA HS 600 – die-sinking EDM
Manufactured in 2002 Electrode holder travel: 500 mm. Travel (X/Y/Z): 1,000/600/500 mm. C axis travel: 360º Table surface: 1,200 x 800 mm. Tank dimensions:1,700/1,000/600 mm. Max weight /
ONA QX8 B1L – die-sinking EDM
Die-sinking EDM on clearance sale New in 2016 Travels (X/Y/Z): 2,000/750/650 mm. C axis travel: 360º Table surface: 2,200 x 1,000 mm. Tank dimensions:2,800/1,500/1,000 mm Workpiece