NHX-6300 DMG – MORI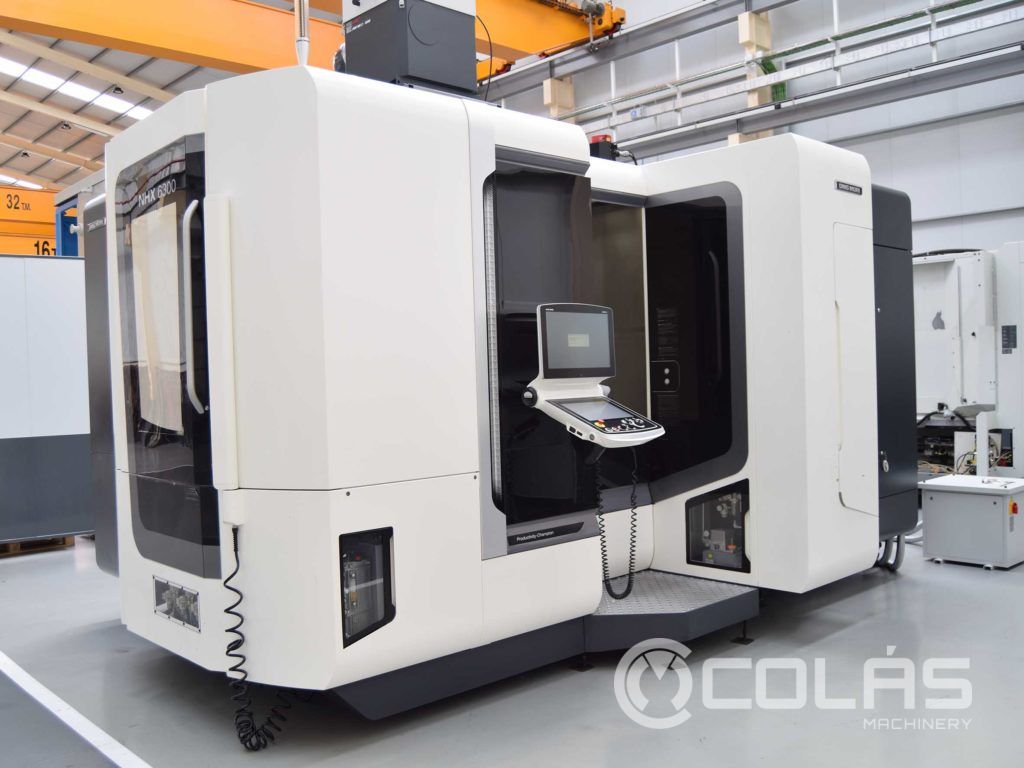 Request information on similar machines
Technical Features of this Used Horizontal Machining Center
Manufacturer
DMG-MORI
Model
NHX-6300
Year
2018
CNC Unit
FANUC FS-31IB
CNC Operation Panel
CELOS ErgoLine
CNC Screen
Touch Screen 21.5"
NC-Rotary Table with pallet changer
INCLUDED
Pallet Dimensions
630 x 630 mm.
Max allowed weight on pallet
1.500 kg.
Pallet Units
2
Rotary Table Index ( B Axis)
360.000×0.001º
Distance pallet surface to spindle center
50-1.080 mm.
Max. workpiece swing diameter
1.050 mm.
Max. workpiece height
1.300 mm.
Pallet indexing time
20 s.
Longitudinal Travel (X Axis)
1.050 mm
Cross Travel (Y Axis
900 mm
Vertical Travel (Z Axis)
1.030 mm
Max. Working Feeds (X, Y, Z)
0-60 m/min
Rapid Feeds (X, Y, Z)
60 m/min
Head Turning Speeds
12.000 mm/min
Taper
BT-50
Main Motor Power
55/30 kW
Automatic Tool Charger INCLUDED
ATC Type
Cadena / Chain
ATC Positions
60
Changer Type
Double Gripper.
Tool Diameter
110 mm.
Tool diameter with free adjacent tools
320 mm.
Max Tool Length
630 mm.
Tool Change Time
2.05 s.
Internal Coolant supply 1.5 MPa
INCLUDED
Coolant Gun
INCLUDED
Portable SteeringWheel
INCLUDED
Chip Conveyor
INCLUDED
Oil Coolant
INCLUDED
Machine Weight
18.000 Kg.
Machine Dimensions (L/W/H)
3.930 x 5.917x 3.300 mm.
Detailed information of this Used Horizontal Machining Center
Second Hand NHX-6300 DMG – MORI for sale at our used metalworking machinery warehouse in Zaragoza, Spain
ALL THE MACHINES ARE AVAILABLE SUBJECT TO PRIOR SALE
Technical specifications are not binding and may be modified without notice
Sold. Request information about this type of machinery